I am the kind of girl that loves a lot of bling – which is why Traci Lynn Fashion Jewelry is one of my all time favorite jewelry companies. Dr Traci Lynn knows that every woman wants to sparkle, and she makes sure every piece featured in her exclusive line with help her do just that.
From necklaces to earrings to rings to bracelets and more – Traci Lynn Fashion Jewelry offers something for you – and everyone on your 2015 holiday shopping list.


When I asked Independent Traci Lynn Consultant Coretta Campbell to send me a piece she thought everyone would "LOVE" – she took me seriously, and sent this beautiful "Hey Love" necklace.
My pictures can never do justice to the amount of sparkle these amazing pieces have.
The pendant spells out "LOVE" and measures about 1″ in diameter and has dozens of beautiful white stones to give it an unbelievable amount of sparkle.
The Hey Love Necklace comes with a 16″ necklace with 3″ extender so you can wear it high or low depending on the neckline of your shirt.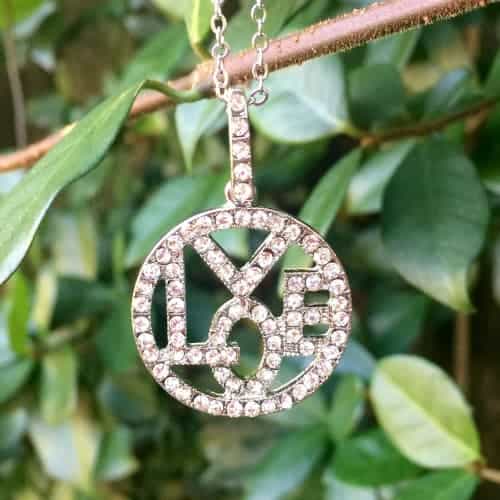 Traci Lynn Jewelry began in 1989 in Philadelphia, Pennsylvania. CEO and founder Dr. Traci Lynn believes jewelry creates an opportunity for women to own their own businesses, balance their lives, and achieve financial independence doing something they love! 
For over 20 years, Traci Lynn Fashion Jewelry has sold high-quality, affordable fashion jewelry through home or office shows, personal shopping, and catalog orders.
As a Traci Lynn Hostess you can earn tons of beautiful jewelry while sharing these sparklies with all of your guests.
As a Traci Lynn Consultant you can build a great business helping women sparkle – literally!