Over 60 Years ago Tupperware was founded and began providing households across the world with quality products that truly re-define the way we live.  
By providing products that keep foods fresher longer, Tupperware helps families save money and gives them more time to spend on other things besides kitchen tasks.  
Tupperware now features products that are not only for food storage but also food prep including tools and cookware, serving pieces and more.
I'm a big advocate for fresh foods and clean eating and make nearly daily trips to my local grocery store (thankfully for my gas spending the store is less than 5 miles from my home roundtrip) to purchase fresh veggies, fruits and meats to prepare the meals for the next day.
I was excited to receive a set of FridgeSmart Containers from Independent Tupperware Consultant Alicia Balzano for review and inclusion in the 2014 Christmas in July event here at Party Plan Divas.  
 I couldn't wait to give them a try (and save myself a trip or two to the grocery store) and see how well these can really keep my fruits and veggies fresh.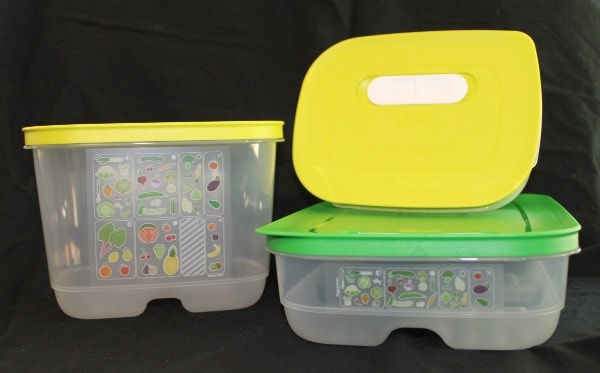 At first glance I love the bright colored lids and the nearly clear containers which allow me to easily see what is inside while they are in the fridge, but I also love the adjustable slider vent that allows me to set the venting option of the container to properly store my fruits and veggies at the optimum amount of humidity (moisture) for longevity.
By using the product charge which is printed right there on each container the guesswork of the proper setting is foolproof.  
There is a built in grid like raised bottom of each container which helps to circulate air and keep your food from sitting in moisture (thus causing it to spoil faster).   
Not that I have had them stored but the containers also next easily when they aren't being used (which here is just about never).
With four different size options, there is a Fridgesmart container to give you storage options for every fresh fruit or veggie you can buy!
And because the sizes all next well your fridge also stays well organized and make it easy to find what you need quickly.  
The clear containers not only help you quickly take inventory of your fruit and veggies stock but also allos you to see when something is at the most optimum eating time.
They also travel well – I took these two packed with my Whole30 meals on my trip to speak at my last Convention.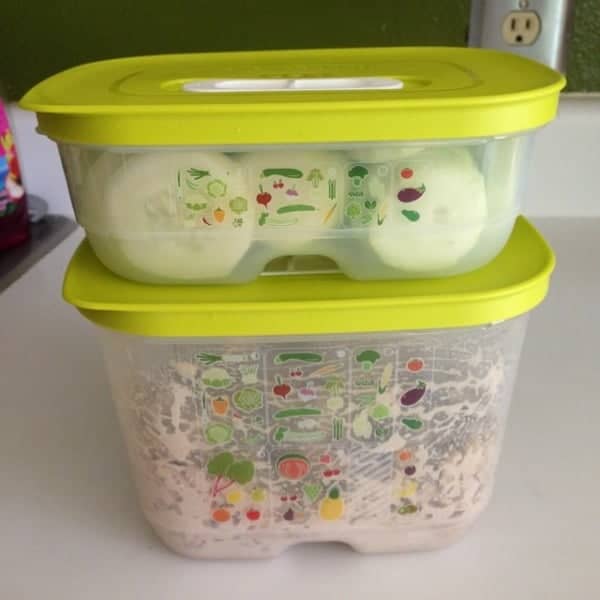 Tupperware products have a nearly unheard of, Lifetime Warranty/Guarantee which provides customer confidence and allows you to know that your investment is a sound one.
Tupperware is sold exclusively through Independent Consultants across the world, allowing women and men from all walks of life to provide a sound income for their families while providing a trusted and well known product line to consumers.
Because Tupperware provides a generous compensation plan it is easy to take control of your income potential and work your business as little or as much as your need requires.  
With a great hostess program, Tupperware Consultants are able to shower their party hosts with exclusive products, discounts and free product choices at little to no cost.