What do you do when your Hostess doesn't answer the phone?
Is there a way I can personally invite guests to a party without seeming pushy?
How can I reach my customers when all I get is their voicemail?
How can I really show my team how much I appreciate them?
How can I really stand out from the thousands of other Consultants in my company?
How do I keep my customers and hostesses coming back to ME?!
With Mobile Business growing in importance in 2014, we are all having to make some changes in the way we connect with our customers, hostesses, and teams.
About a year ago I looked in to the cost to set up text campaigns to send reminders of upcoming events, invitations, etc – it cost a small fortune.
Every place that I contacted charged me per text + per contact!  There was no way I could afford that with the size of my list – much less recommend it to my Divas!
We are in the business to make money – not spend it, right? So I kept searching for something that would let me be able to constantly reach out to my contact list – in a way that was fun, easy, and memorable – without it costing a fortune.
Divas – I found it!  And it is called ZingEm.
ZingEm For Business
First let me say this – I am not getting any kind of kickback on this whatsoever. I am not an affiliate, I do not get a commission – nothing like that. In fact, I even pay for my own ZingEm account every month so that I can send out eCards like the one below. The owner has created some tools just for us Divas to help explain how you can use it for your business – but I am in no way affiliated with ZingEm. I just absolutely love it and I wanted to share it with you! 
Last week while I was in Clearwater I sent you guys a ZingEm – a completely customized Video eCard that I sent you all right though my iPhone.
I simply recorded a quick video while I was out at the beach – plugged it in to the right spot, and voila! It has absolutely become my favorite new app for business. (next time I will hold the camera correctly lol)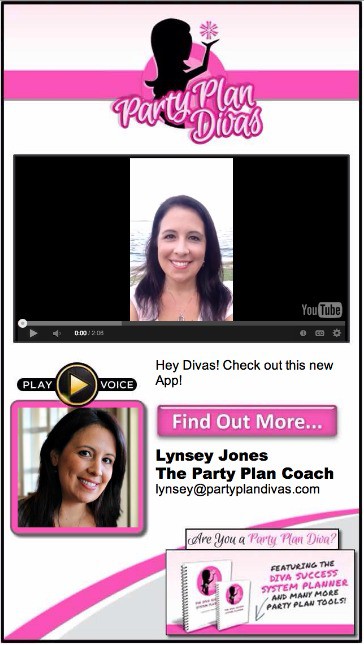 With the ZingEm app I can pay one flat fee – and send an unlimited amount of links!  No matter how big or small your list is – or if you want to send one or one thousand links out – the price is the same. Even as your list grows – it doesnt matter! One flat rate, all the time. That alone makes ZingEm a better choice.
Oh, and did I mention that the cost is about the equivalent of a fast food meal?  $9.99 per month gets you everything unlimited.
How cool is that!?
My text campaigns – which were only going to be a text message – not a fancy ecard with images and videos and stuff – were going to be over $300… for each campaign.
When you create an eCard on ZingEm, you can send it out via text, email, Facebook, Twitter – wherever you want it to go! The ideas for ZingEms you can send are limitless!
Send personalized welcome invites to your party guests
Coach your Hostess with ideas of what she can be doing
Send your team members the loving congrats that they deserve
Send a personalized Birthday message to your VIP customers
Preview new products to your VIP customers
Send a personalized reminder of an upcoming meeting
Send a heart felt thank you to customers or colleagues
and more!
Check out this quick video to see just exactly how ZingEm works:
You can try it for free and if you love it as much as I do, sign up for just $9.99 per month. Check out more details on 
http://www.divasecards.com/