Wildtree has become a company that is known for their all natural products that contain no fillers, msg, high fructose corn syrup, dyes or additives. Founded in 1996, but officially launched in 1999 as a Party Plan company, Wildtree puts the wellness of their customers as a top priority.
When you host a Wildtree tasting party you are sharing not only fabulous foods and wonderful memories with your friends, you are also earning free and discounted products.
At a home tasting party you and your friends will be shown how to make cooking quicker and simpler and most importantly healthier by an Independent Consultant like Angie Grant.

Independent Wildtree Consultant Angie Grant sent me the following products for review and to be featured in the 2014 Christmas in July event here at Party Plan Divas.
The Meatloaf Mix, Lasagna Skillet Meal, European Dipping Oil – Garlic, Jalapeno Pepper Blend Spice, Taco Seasoning and Garlic Galore Seasoning Blend.
We almost immediately put the taco seasoning to use. The Wildtree Taco Seasoning blend is made with authentic spices that make perfectly seasoned taco beef every time we have used it.
Blended fo chilli powder, cumin, onion, oregano, garlic and black pepper this is a certified organic product.
You don't have to use much either which means the 3oz jar lasts through many meals. You can also use this to make 7 layer mexi dip or bean dip for a kick of flavor.
Not long after we were pinched for time to get a meal done and while I don't normally cook "from a box", I grabbed the Lasagna Skillet Meal – I was delighted to find that per the directions I could make this in a skillet and have it complete and ready to serve in just under 30 minutes.
There was just enough for our family of four (2 adults and 2 children) and I appreciated that the ingredients are all natural instead of a bunch of ingredients I cannot even pronounce.
Every ingredient on the label is something i know exactly what it is AND can pronounce it!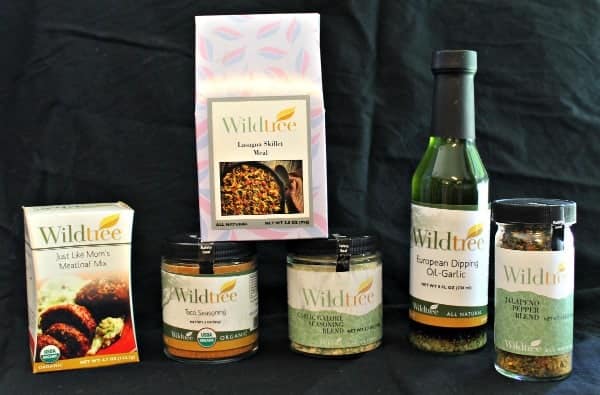 I must say that is my favorite part of Wildtree products is being able to pronounce the ingredients and knowing exactly what I'm feeding my family without having a ton of preservatives and chemical type additives etc.
There is definitely a difference when you eat properly in the way your body reacts and feels. "Eating Clean" can sometimes be bland or boring – but Wildree can help spice things up, while keeping it "clean." I love that.
When you become a Wildtree Independent Consultant you are not only taking a step to better health but also taking control of your career. By working as little or as often as you choose, you have the control to determine your paycheck.
With a lucrative compensation plan, you can earn up to 40% on your retail sales with Wildtree and their Hostess Program is funded directly by Wildtree so you have minimal out of pocket expenses.
With Wildtree you can truly find personal satisfaction in both business and health.