50+ Free Facebook Party Images
Looking to host the best Facebook party ever? Check out our free Facebook party images! We have a wide variety of images that will help you get your party started off on the right foot. We have everything you need to make your party a success.
Still need more help getting your party started? Check out our blog post on How to Throw The Best Direct Sales Home Party! We'll walk you through everything you need to do, from creating a guest list to promoting your party. You'll be a pro in no time!
Whether you're looking to plan a fun girls' night in or earn some extra cash by hosting parties, there are plenty of opportunities for direct selling and party planning. And with a little creativity, you can make your parties and sales events stand out from the rest.
So if you're ready to have some fun and get a little bit creative, then party planning and direct selling might be just the thing for you.
When it comes to hosting a successful party or direct selling event, images are key. People are visual creatures, and they're more likely to be drawn to an event that looks visually appealing. So whether you're creating flyers or invitations, be sure to use images that will catch people's attention.
In addition to using images, another way to make your parties and sales events stand out is to get creative with the theme. Instead of hosting a generic girls' night in or wine tasting, come up with a unique theme that will pique people's interest. For example, you could host a jewelry making party or a gourmet cooking class. By thinking outside the box, you'll be sure to attract attention and create a memorable event.
You can even use PicMonkey or Canva to personalize the images just for you!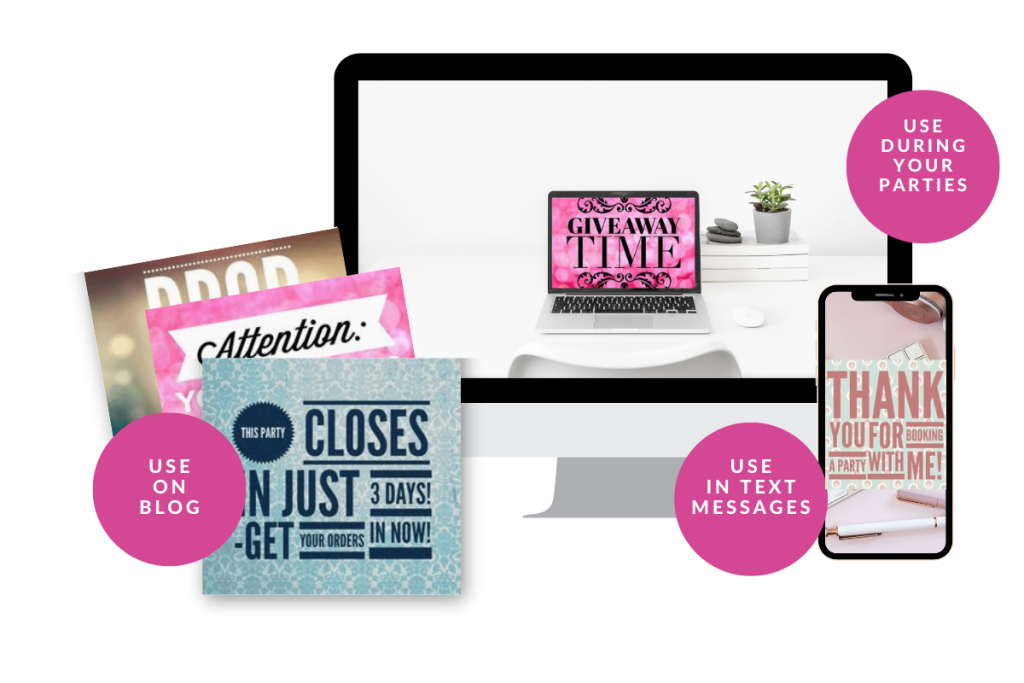 To save you tons of time I've bundled all the graphics into one easy to download zip file. When you add your name and email below you'll be sent the link instantly via email to download at your convenience. Fill in the form below to get your 50 Free Facebook Party Graphics now.
Download All 50 Free Facebook Party Images HERE:
Enter your name and email to join the Party Plan Divas email list. Every day you get new value-packed emails with training and updates on our latest programs, business training, activities and offers. You can subscribe at anytime!
Direct Sales Party Presentation Tips
Whether you're selling makeup, jewelry, or skincare products, a party presentation can be a great way to showcase your products and make some sales. However, party presentations can also be a bit daunting, especially if you're new to the direct selling game. Luckily, there are a few simple tips you can follow to make sure your party presentation is a success.
First, party planning is key. Make sure you give yourself enough time to plan and prepare for the party. This includes sending out invitations, gathering any necessary supplies, and creating a party timeline.
Next, direct selling is all about being personable and making a connection with your customers. During your party presentation, take the time to chat with your guests, answer any questions they have, and really sell the products.
Finally, don't forget to follow up after the party. We have a great masterclass on this exact topic. Fortune Is In The Follow-Up will help you wow your guests and customers after the party has ended. Use code FOLLOWUP to get 50% off!