Facebook Live For Direct Sales Online Parties
Facebook Live has opened up a whole new avenue for Online Parties for Direct Sellers. Facebook's Live allows live-streaming video on Pages, Profiles, Groups, and even Events!
There are many benefits to both the Consultant and the Hostess for an event like this, and now Online Parties can be run even easier at any time, from anywhere, with just a few days notice.
Read below to learn how to utilize and maximize Online Parties with Facebook Live with your Home Party Plan Business!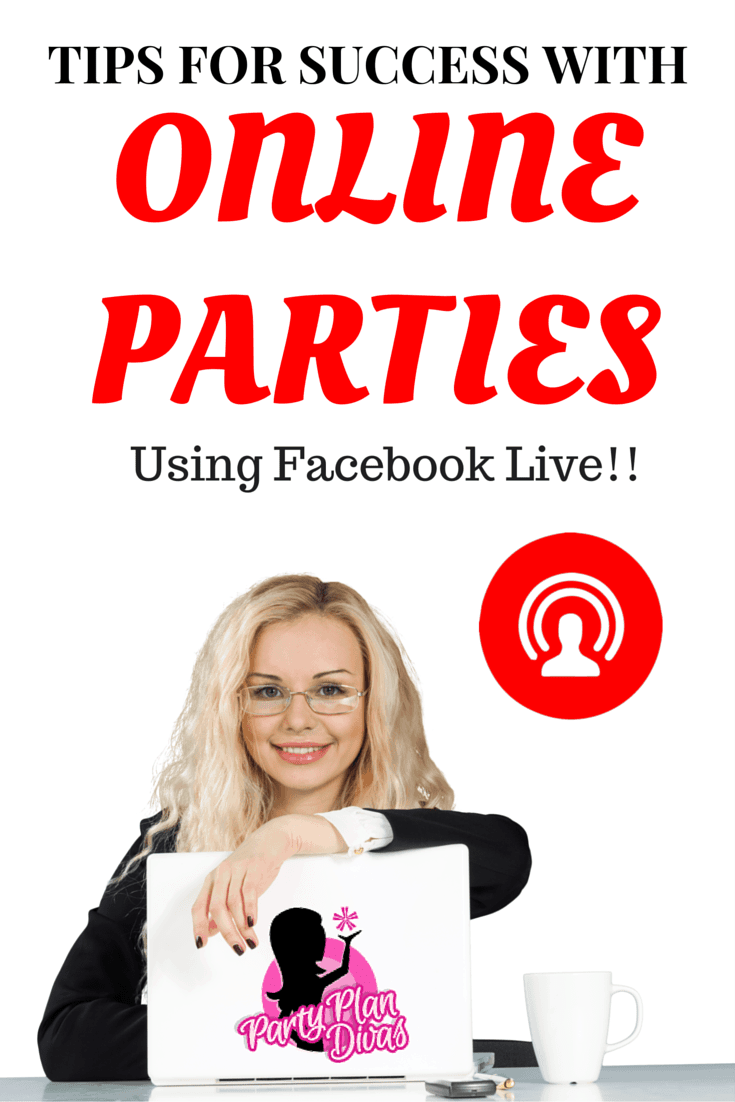 This post may contain affiliate links which means we receive a small commission at no cost to you when you make a purchase. As an Amazon Associate, I earn from qualifying purchases.
Why have an Online Party?
Online parties are beneficial and convenient for both the Party Plan Consultant AND the Party Plan Hostess. For starters, a Hostess will not have to really "Host" anything – meaning no pressure to clean the house, get a babysitter, cook hors d'oeuvres, etc.
A Hostess can earn the same free rewards without having to do quite as much of the "work." It is convenient for her guests as well who do not have to drive to the party – meaning she can invite even her long-distance friends and family.
Likewise, the Party Plan Consultant can do the party from the comfort of her own home, opening up endless opportunities for long distance parties, multiple simultaneous parties, and more.
In fact, with an Online Party, you have the option to have a Hostess or not – you can "Hostess" your own party just as easily. Plus using a platform like Facebook Live gives you the opportunity to really connect with new potential customers, hostesses, and team members.
Organizing Your Online Facebook Live Party
Decide if you want your Facebook Live Party to happen on your profile, page, in a group, or in an event. There are pros and cons to each option – mostly based on privacy.
For a public party (say, one where YOU are the "hostess") you may want to have the party on your Facebook Page for more visibility.
For more control over who views your video, you can choose to have it on your Profile, where you can choose to have it public, just friends, or a specific group of friends.
For a more intimate group or for adult parties, consider using a private event or private group so that only the party goers (those who have joined the group or RSVP'd) will be able to view the live video.
If you choose to do your party on your Facebook Page, you will be able to edit the video, download, share, etc as well as view insights on the video's performance.
Invite people just a few days before the party and send a reminder. Unlike the In-Home Party, an Online Party is much more easily forgotten as people do not really make specific plans to be there. Do not invite too soon!
The benefit to using a Facebook Event for your party is that people can RSVP and will then receive a notification when you go live. You can post updates and begin the "party" with teasers leading up till when you actually go live.
Invite EVERYONE from your Address Book. With an Online Party, there is no reason not to invite everyone you know – regardless of location, time zone, etc. Everyone can take advantage of an Online Party.
If this party is for a Hostess, ask her to invite all of her friends – and over invite just like you would an in-home party.
*If you decide to have your event in a Facebook Group – DO NOT ADD PEOPLE! One of the most obnoxious things about Facebook is the ability to add to a group without permission. Instead, INVITE people to join.
Use all of your Social Media outlets to advertise your event. And ask your Hostess to do the same. You can post on Facebook leading up to the event, tweet about the party, and if you have a blog you can even post there with a direct link for people to join in.
Set a convenient time to "Go Live." Just like with an in-home party you want to choose a time to go live that works for both you and your hostess.
Even though the party will be able to extend both before and after your live session, you want as many people to be able to tune in as possible.
The Live Portion will be when you are there to demo products you have chosen to feature, talk about the Three Ways To Get Involved with your business, and answer questions in real time.
The video will stay viewable within the group/event so people can watch even if they are not there live.
Ready To "Go Live?"
The "LIVE" portion of your Facebook Live is like your presentation portion of an in-home party. Like with a live presentation you want to make sure that you stay aware of people's time and keep them engaged.
You will want to start with a short intro, Your I Story, the Three Ways to Get Involved with your business, and then choose just a couple of your favorite products to show.
You want to make sure you have this organized before the event so that it flows easily and keeps you more comfortable behind the camera.
Facebook recommends you stay live for at least 10 minutes to get more viewers, and you can stay live for up to 90 minutes.
Choose a great Title. The Title will show up in the notifications – so you want to use a compelling title so that people will join in. If you are hosting the Facebook Live Party in a Group or Event, you may choose to "go live" a couple of times – instead of leaving one solid video rolling.
Make sure you have good internet signal. Wifi is preferred so that your video runs smoothly. Even in the greatest "service area" I have found my video lags and freezes sometimes.
Use a tripod or selfie stick. Make sure your camera is steady and none of your viewers get "sea sick" watching your live stream! Amazon has some great Smartphone Tripods for less than $20!
Speak slowly and clearly. In case your video lags some, you want to make sure people can keep up. Do not rush – remember that it always seems slower to you than it does to someone watching. Plus when you seem relaxed, people are more likely to ask questions – and engagement is key!
There may be a delay with comments. I have found there is about a 5-second delay from when comments are posted to when they show up on your screen. You will want to keep an eye on these comments to answer any questions as they arise. This may mean backtracking just a bit – just take it in stride. Questions are a fantastic way to keep the party going, show your expertise, and really connect with your audience. Do not be afraid of questions – instead ask for them often!
A few more quick tips
Welcome people by name as you see them arrive. You can even ask them to comment and tell you where they are tuning in from!
As people to subscribe so they will see your future live streams. You can also ask them to send you a friend request, like your page, etc.
Create more excitement around your party by planning it around a New Product Launch, Holiday Shopping Extravaganza, or another special occasion.
Put a spin on "Mystery Hostess" parties with Online Parties – randomly choose one purchasing attendee to be awarded the Hostess Rewards from the entire party! If you do not have a Hostess already, this is a great way to get people involved!
Repeat your website URL, ordering instructions, and incentives several times during the party and for any late arrivals. You will also post images and links in your party like a typical Facebook Party – Facebook Live just gives your party that much more personality!
Make sure guests understand shipping charges and expected shipping date. If you are keeping the party open for several days or longer after the live session, make sure your clients understand that and know when they can expect to receive their products.
Grace Under Pressure – Be prepared for possible problems and handle them calmly and effectively.
What will you do if you start having computer problems in the middle of your party? How will you answer a guest who keeps asking off topic questions? Or what if there's a disruptive intruder or someone starts promoting sales of her products?
Be as graceful as possible when handling such issues.
If your computer is making participation nearly impossible, ask for email addresses and email everyone an apology and a discount coupon.
Confrontation with rude and disruptive intruders will only escalate the problem and make your other guests uncomfortable. Most chat rooms have an ignore feature that you can instruct guests to use for the disruptive intruders.
Offer to contact someone by email after the party for off-topic discussions. And ask the person who is promoting her products to wait until the end of the party and invite anyone who is interested to stay for a few minutes.
And finally, as with anything we do in our Home Party Plan Party – FOLLOW UP! Keep in touch with everyone who came, ordered, played games, or just "hung out" for a little while.
If they were interested enough to come visit, they are interested enough to possibly become a client.
DO NOT friend request everyone who came – but invite them to friend request you! DO NOT add anyone to a group – but invite them to join.
Online Parties are a great way to add to your monthly volume, reach new Customers, and meet new potential Hostesses and Recruits, and with Facebook Live you can take your online parties to a whole new level!!
Done well, you can make a significant impact on your Home Party Plan Business – without ever leaving home!