How To Be Perfectly Imperfect
Last month while I was in Texas I attended one of my Brand New Consultant's Business Grand Opening Party.  Stacey and I have spent hours on the phone since she became a Consultant in December, and I have so enjoyed getting to know her and becoming friends, so it was a delight for me to get to see her do her debut show.  
I had hosted a "Mock Trunk Show" the night before to help my team learn some Presentation Techniques, and noticed throughout my presentation she was feverishly taking notes, so I was excited to see HER version of what I did.
This post may contain affiliate links which means we receive a small commission at no cost to you when you make a purchase. As an Amazon Associate, I earn from qualifying purchases.
How To Be Perfectly Imperfect
The show was at her mother's house which was absolutely gorgeous – I just love Texas homes! It is so different than anything I have ever seen around Pensacola. The products were displayed beautifully around the home where people could walk around and touch and try things on. I was very pleased with the full set up.
As I was walked around admiring everything I noticed something on the floor that caught my attention.  This beautiful, pristine home with amazing design and architecture… had one tile with three little paw prints dried in the clay.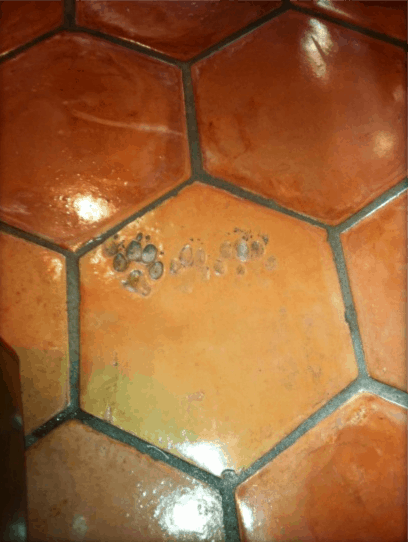 As I was caught admiring it the homeowner explained that it is authentic Saltillo tile from Mexico, and if you look closely at each tile, many of them have small marks from plants, wild dogs, chickens, and other animals.  That is when it struck me… she had chosen "imperfect" tile… on purpose.
So many times I talk to Party Plan Consultants who are caught up in making sure everything in their business is "just perfect" – and more times than not it will stall the process of a new Consultant getting going.   They spend hours – days! – organizing, studying,  primping, practicing, reorganizing, reading, … and never actually START!  Then discouragement kicks in when they look up and realize they have been a Consultant for 6 months and have not been successful and quit… it is a vicious cycle that I see EVERY SINGLE DAY.
Stop trying to be perfect – YOU are perfect, with all of your imperfections. Will you mess up – yes, guaranteed. Will anyone notice – probably just you. Will you learn from it, grow from it, and be better for it – ABSOLUTELY.
I stood in the foyer as I listened to Stacey present her show.  It is like a mother waiting in the hallway of school while her child does her first piano recital.  I was nervous for her, but so excited, and she "played" just as beautifully as I knew she would  Stacey did a remarkable job, and was an inspiration to her Brand New Consultant who was in attendance at the party as well.  It had been a while since I watched a new consultant take her "first steps" – but even after 13 years in this business, I learn a lesson every time!
Mike and I have plans to retile our bedroom, and I will be looking into this perfectly imperfect Saltillo tile. What a wonderful reminder to have every day that imperfect IS perfect… and beautiful.