Last Fall I went to help a friend of mine who had just had major abdominal surgery. When I got there she was in the cutest outfit of leggings with a nice baggy top – and I immediately was concerned about her wearing anything around her tummy!
She laughed at me and said, "clearly you do not know LuLa Roe – they are like buttah – and the most comfortable thing I have ever put on – before or after surgery." 
I was of course intrigued, and reached over to feel these "buttah leggings" and immediately fell in love.
We spent the next two hours shopping through Facebook Groups looking at all of the adorable styles of LuLa Roe.
That is when I met Independent Lula Roe Consultant Lynne Saine, and have been one of her loyal customers ever since.
If you have not yet experienced the amazingness that is LuLaRoe, you are sorely missing out.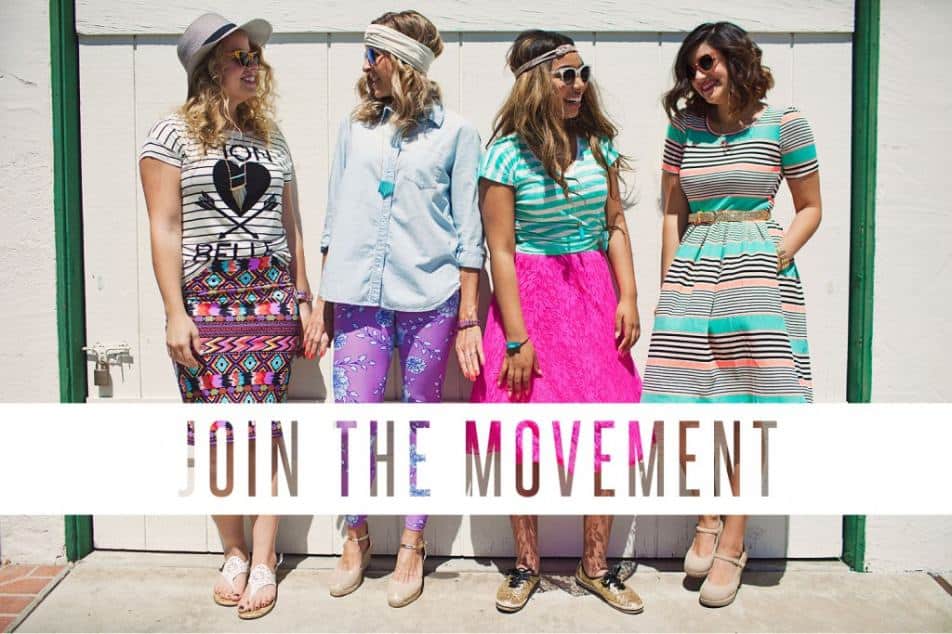 LuLaRoe exploded onto the scene and created quite the "legging frenzy" online. Thousands of leggings were being sold and shipped daily by Independent Fashion Consultants all over the country.
From wild and wacky prints to stripes and polka dots – then finally the addition of solids – I have to admit… I, myself, have nearly thirty pairs. Yes, you read that correctly.  
The leggings are by far the softest and most comfortable piece of clothing I have ever put on. But LuLa Roe isn't just leggings – they actually offer twenty different styles of clothing for women and girls of all sizes.
From the Cassie to the Lola to the Lucy – all of LuLa Roe's styles are fun, chic, and made with the amazingly soft fabric that LuLaRoe is known for.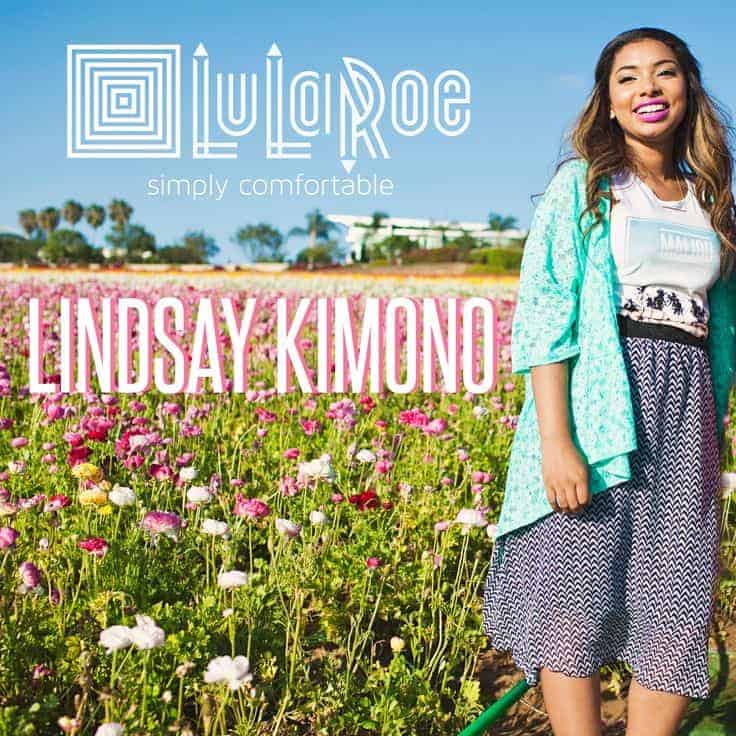 Independent LuLaRoe Fashion Consultant Lynne Saine sent me a fitting piece for this year's Mother's Day Gift Guide… she sent me the Lindsay.
The Lindsay Kimono features loose, 3/4 length sleeves and a scooped high-low hemline that makes it perfect to wear with leggings (yes, I am in the "leggings are not pants" camp…) or one of their adorable skirts of dresses.
What I love about the Lindsay Kimono is that it is light weight and easy to layer with anything, but it also gives just enough warmth for someone like me who is cold ALL.THE.TIME.
Yes, I am that Mom that carries a jacket into every restaurant in the middle of Summer because I am cold.
With the Lindsay I feel like I am still "cute"… even looking a bit ridiculous wearing a "coat" when everyone else is in a tank top 😉
I am sure you can tell my love for LuLaRoe, but seriously if you have not experienced the softness first hand, you really should.
You can host a "Pop-Up Boutique" in your home or online to share these fun fashions with your friends too!
And if you are looking build a business with one of the hottest products on the market today, you can join Lynne's team and start building your own LuLaRoe Empire.