Thrive Life Business Opportunity
Thrive Life launched as Shelf Reliance back in 2005 with the goal to help people around the world become more self-reliant. Their first product – the Food Rotation System – gave families the ability to organize, store, and rotate canned goods efficiently in a compact space. Wanting to take this idea further, Shelf Reliance launched a premium food line with an innovative freeze drying and packaging process which allows people to enjoy their favorite foods for years to come with uncompromised taste and quality.They now offer an impressive line of Fruits, Vegetables, Cereals, Dairy, Meats, Baked Goods, Sauces and more – as well as the pantry organizers that made them famous!

In 2009 Shelf Reliance launched its Home Party model for independent consultants who could go into homes and teach families how to be more self-reliant, prosperous, and charitable. As successful business owners, Shelf Reliance consultants are able to become self-reliant themselves by earning an income at a pace and schedule they choose. As an Independent Thrive Life Consultant, you can earn commissions on all of your sales – including one time orders and recurring deliveries – as well as on the recurring deliveries of your team. You even earn a commission on your new Consultants starter kits and receive bonus gifts every time you reach a new rank in their success plan as well as a plethora of other bonus and recognition opportunities!

Independent Thrive Life Consultant Lynn Olsen is THRIVING with her Thrive Life business. Check out what she had to say: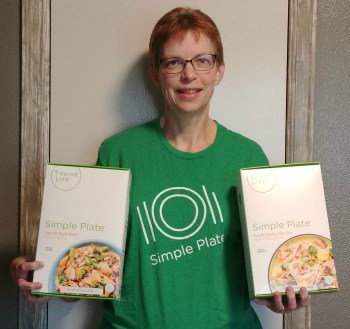 Being a consultant for Thrive Life has truly changed my life! I have worked with other direct sales companies before, but think I have finally found the right fit for me! We are sharing something EVERYONE needs in their life – FOOD! A generous commission plan, your own free and half-off food, and an opportunity to earn a fantasy vacation – those things are just the icing on the cake! I love teaching people how to make snacking and mealtime simple, fast, healthy and DELICIOUS! Families need to eat meals together, and Thrive Life's brand new meal delivery service, Simple Plate, is going to revolutionize dinner time! It's such a great time to join my team and share this new way of thinking with everyone! I would love to share more about Thrive Life with you!
Did I mention there is FREE SHIPPING on consultant kits?!?! And even if you decide the business opportunity isn't right for you, you can EAT most of your kit (and will probably at least want to order more food for yourself)! Learn more here: http://lmno.thrivelife.com/parties/index/becomeconsultant
You can learn more about how you can get involved with Thrive Life by visiting Lynn's website and be sure to connect with her on her Facebook Page and in her exclusive Facebook Group.