Sponsored by Andrea Frey of Tori Belle
Tori Belle founder Laura Hunter is the inventor of that magnetic lash liner you just may have heard of recently. I have! I actually tried fake eyelashes for the first time upon hearing about these lashes and how easy they were to apply.
Today's featured product, however, is the Plumping Lip Gloss from Tori Belle. As someone with full lips I was a little concerned about whether or not I needed a plumper. Read on to hear my thoughts and see the before and after 🙂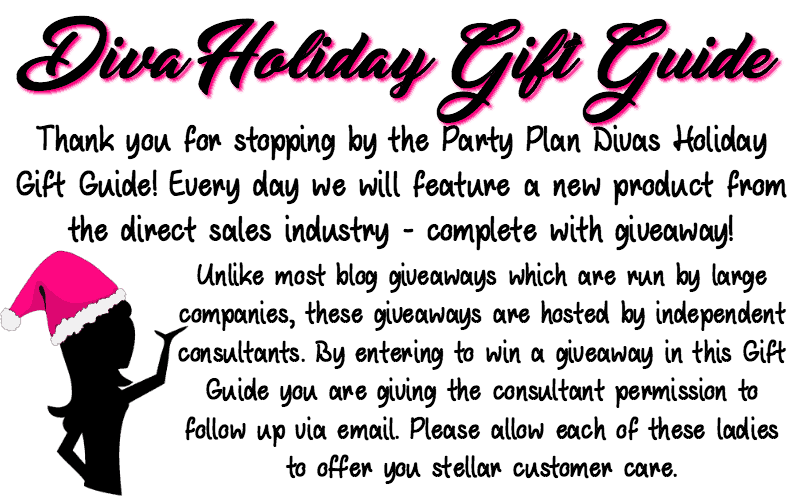 Here's what our giveaway sponsor Andrea Frey said about this product:
"This sizzling lip gloss delivers a unique tingly sensation thanks to our formulated plumping serum, which make lips look instantly fuller. Plus, nourishing ingredients that help visibly smooth and firm lips while providing long-lasting hydration. It's also nontoxic,-free, gluten-free, nickel-free, and vegan."
First of all I love that it's vegan. I am on a mission to remove all animal products from ALL products in my life and this supports that cause so, yay.
Since it's gloss non-toxic is a must. Actually non-toxic is ALWAYS a must but especially in a gloss.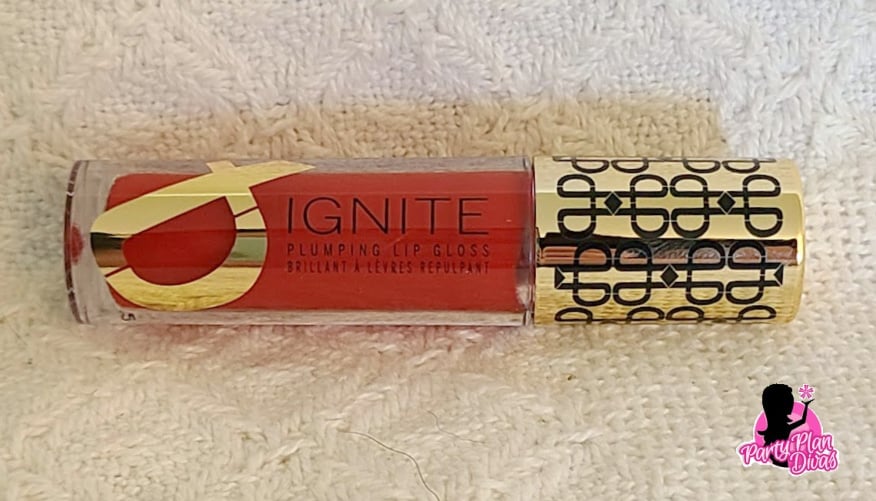 As I said I have full lips, you'll see below.
I do love a good tinted lip gloss, though.
I wasn't sure how plump this gloss was going to make my lips. Was it going to look like a botched lip injection or something? 😲
But ALL GOOD. I love the color. I've been wanting to get a red lip color again for a while. I haven't had red lipstick in years and I used to be a bit self-conscious to wear it but life is too short for that! I love the boldness of a good strong lip color and the confidence it just exudes.
I did notice a plumping of my lips. I don't know why I thought it might make my lips bigger… it fills them in a bit in a subtle but really nice way. Here's my before and after: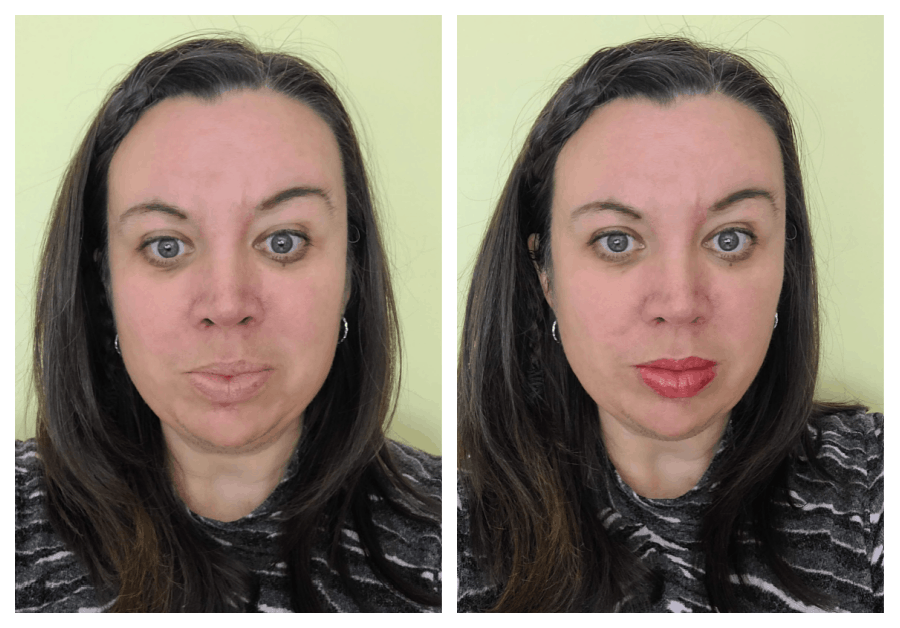 The gloss applicator was larger than I expected. I looked up and I believe it's called a "doe foot" applicator which is flat and angled and allows for quick, good coverage. Convenient! It did cover very well and easily. I may have used too much actually.
This gloss feels good on the lips. Smooth, not sticky. Has a great shine.
Like a regular gloss you'll want to reapply from time to time.
If you're a gloss girl or want to be this is a gloss definitely worth giving a try!
You can shop the entire line of Tori Belle products by visiting Andrea's website.

You can also connect with Andrea on Facebook or Pinterest.
If you want even more, consider joining Andrea's team, and build a business helping people feel amazing with the Tori Belle products.
GIVEAWAY
Ready to win? One lucky reader will win a $25 Shopping Spree from Tori Belle sponsored by Andrea Frey. You can enter using the Rafflepress form below: