How to Create an Effective Action Plan for Daily Sales in Your Direct Sell Business
Creating an Action Plan For Daily Sales is going to make your biz life much more organized and successful.
One way to get ready for daily sales making is to create an organized plan.
This post may contain affiliate links which means we receive a small commission at no cost to you when you make a purchase. As an Amazon Associate, I earn from qualifying purchases.
Use A Planner To Help With Your Action Plan For Daily Sales
You can start by entering in your daily planner what zoom meeting you have and jotting down your big 3 tasks you want to accomplish that day.
This will help you stay on track and make sure that the most important tasks don't get forgotten about amid your other obligations.
Additionally, you can also set aside a specific amount of time to answer emails, respond to customer inquiries, or plan out content for the week.
Doing this will ensure that all aspects of sales are taken care of, from nurturing prospects to closing deals.
Don't Forget These In Your Action Plan For Daily Sales
Don't forget to review your pipeline and check in with your team on any new leads or strategies that might be helpful for the day.
Having a plan in place can help ensure that sales goals are achieved and create an efficient workflow for everyone involved.
Using A Planner
An effective action plan for daily sales is writing every task down in a daily planner and planning out your sales activities for the day. Doing this can help to keep your motivation levels up.
Having structure and direction will give you a better understanding of what needs to be done, helping you focus on the tasks that should take priority.
Tracking progress throughout the day can also serve as encouragement when goals are achieved or exceeded.
Brain Breaks!
Additionally, it's important to take regular breaks throughout the day and switch up your focus.
This can help keep you from feeling overwhelmed and allow for a more balanced work-life approach.
Taking breaks for lunch, fresh air, or even just grabbing a cup of coffee will make it easier to come back to tasks with renewed enthusiasm.
Want To Have A Printed Action Plan To Follow?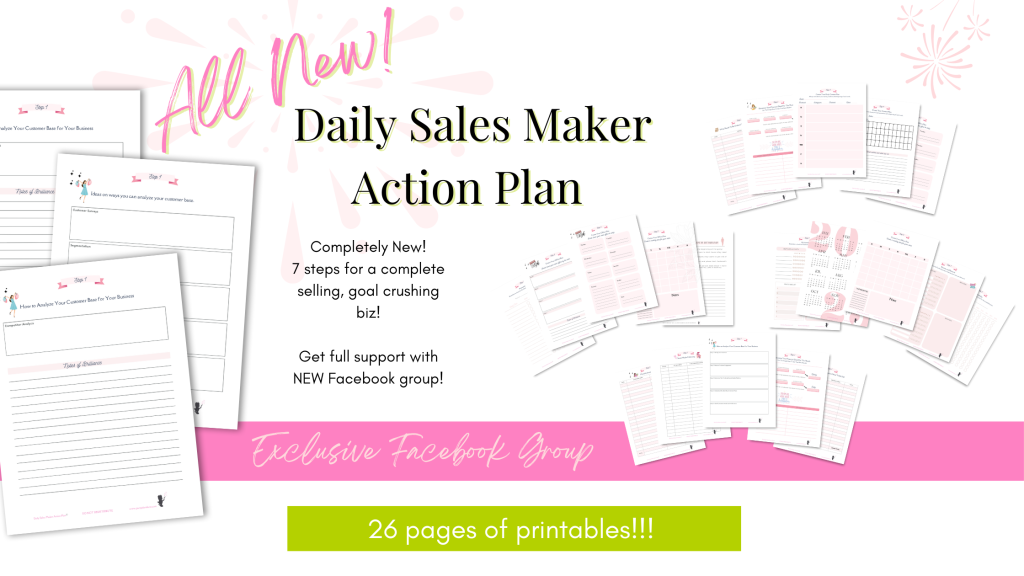 Stay Organized
Creating an organized plan and sticking to it can be difficult but it is an important part of successful daily sales management.
Taking the time to do so will help streamline processes and create a more productive work environment that can result in increased sales results.
It is also important to review the previous day's activities, such as what went well and what didn't. Were your sales scripts received well?
If not, what could you do differently? Was your customer service up to par with customers' expectations?
Taking the time to reflect on these types of questions can help you figure out what strategies work best for your team and adjust accordingly.
Celebrate Even The Smallest of Victories
Did you close any deals?
Celebrate your successes and reflect on what didn't work so that it can be improved for the next day.
Taking note of successes and failures in your daily planner will help you become a better salesperson in the long run.
Stick To Your Action Plan For Daily Sales
After mapping out a plan, it is important to stick to the schedule so that you don't become overwhelmed or miss opportunities.
It is easy to get sidetracked with kids and other activities so put those activities on your calendar too!
With a plan in place, you'll be ready to start the day and make sure no sales opportunities are missed.
Don't forget to pencil in time with friends and family to o – it's important to take a break and reconnect with your support system.
Don't Forget Networking
It is also beneficial to set aside time for networking, as those contacts can provide valuable leads and advice.
This can be done by keeping your Facebook group engaged and attending virtual events.
Sending text messages to those who you have not talked to in a while is also a great way to reconnect.
Stay In The Know
Additionally, taking the time to review industry news and trends can help inform your sales approach.
Keep up with you companies policies and sales so you are offering the best customer support you possibly can,
Reward Yourself
Finally, don't forget to take some time for yourself and reward yourself for accomplishments along the way! l
This is so important for managing stress and avoiding burnout. The more you take care of yourself, the better you are able to focus on your daily sales activities.
By following these tips, you will be well on your way to creating a successful daily sales plan that can help improve overall productivity and increase sales results. With careful planning and execution, you'll be able to remain motivated and successful in your sales role.