I am so excited to finally announce our theme for the New Year. Each year Party Plan Divas chooses a "theme" for the year to help keep us focused and motivated. This year I took a tip from Mike, my loving beau, who is an avid poker player.
His meaning behind going "All In" on the poker table made me think so much of our industry. You may not always have the "perfect hand" or "pocket Aces" – but you believe you have a winning hand, and with persistence and confidence, you may just get lucky "on the River."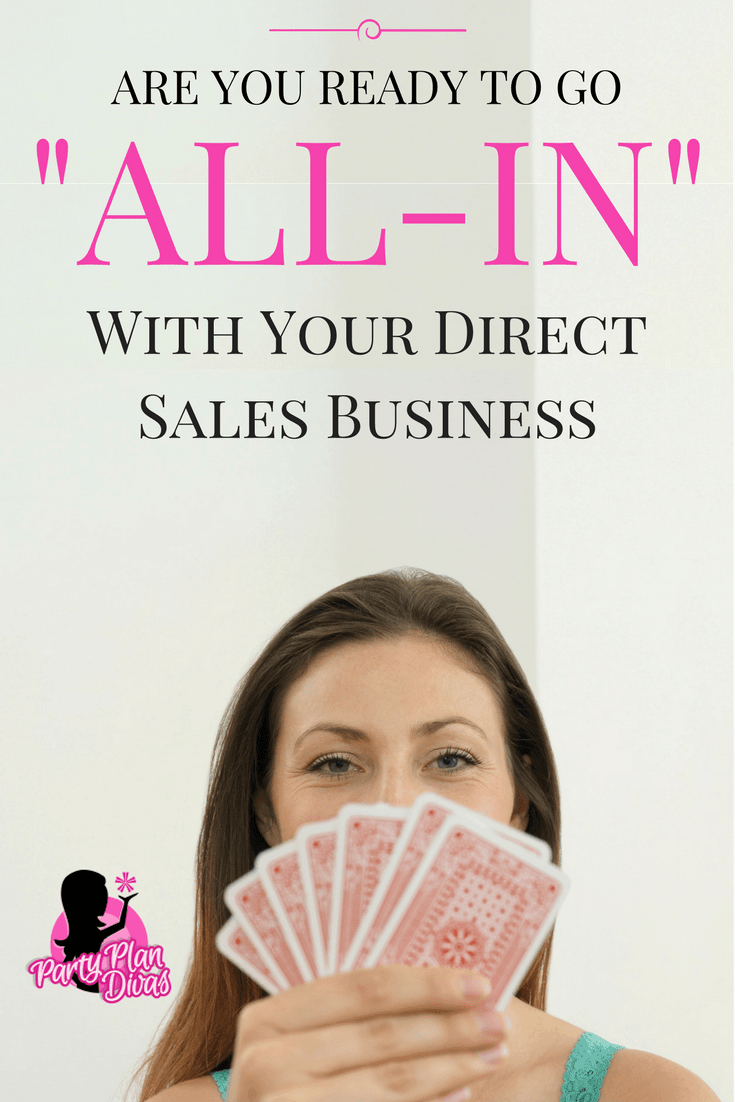 This post may contain affiliate links which means we receive a small commission at no cost to you when you make a purchase. As an Amazon Associate, I earn from qualifying purchases.
Poker terminology might as well be another language. With all of the talks of "big blinds" and "buttons" and "bubbles" – it can sound like complete gibberish to someone who has never played the game.
Likewise to the Party Plan Industry "Hostess Coaching" and "Booking Games" tends to get that deer-in-headlights look from most anyone who has never been in the industry.
But to those of us "in the know" we can all understand, sympathize and celebrate with one another over these "terms" just like in the poker community.
Go 'All In' in In Your Direct Sales Business
Going "All In" is about being fully present. It is about not being 110% confident that you will win, but putting it all out there to chance.
It is about using what you know, using a strategy for success, and trusting your own voice when push comes to shove.
It is about being fearless and willing to risk it all to win it all. It is about realizing that life is a game of chance that we all play, and those of us who are willing to "Go All In" with our business and our life are those who will end up at the top of our game.
So this year I chose our theme "Go 'All In'" because I challenge all of you to Go "All In" with your business, and your life. Unlike poker, in the game of life, you have nothing to lose, and everything to gain.
Trust in yourself, trust in your "hand", and go ALL IN! Who knows… you may just get lucky "On The River"!

Take A Closer Look At PartyPlanDivas
PartyPlanDivas is the largest Online Training Community for Direct Sales Professionals. For over twelve years PartyPlanDivas has been a trusted community for training and support in every aspect of the direct sales industry. With a firm foundation of Time Management and Organization, the Diva Success System has helped tens of thousands of Direct Sales Consultants worldwide to be more successful, less stressed, and have time for what matters most – our loved ones.
Join Our Free Community
Join thousands of "Divas" from all over the world to learn business building ideas, gain support, ask questions, and more! With PartyPlanDivas you'll become better organized, less stressed, and more successful with your Direct Sales Business.