Keeping a Mobile Office in your vehicle is a must-have for all Direct Sales Professionals. Opportunity for business can happen at any time – and your Mobile Office will ensure that you are always prepared when it does.
Check out these simple tips for taking your Direct Sales Business with you on the go!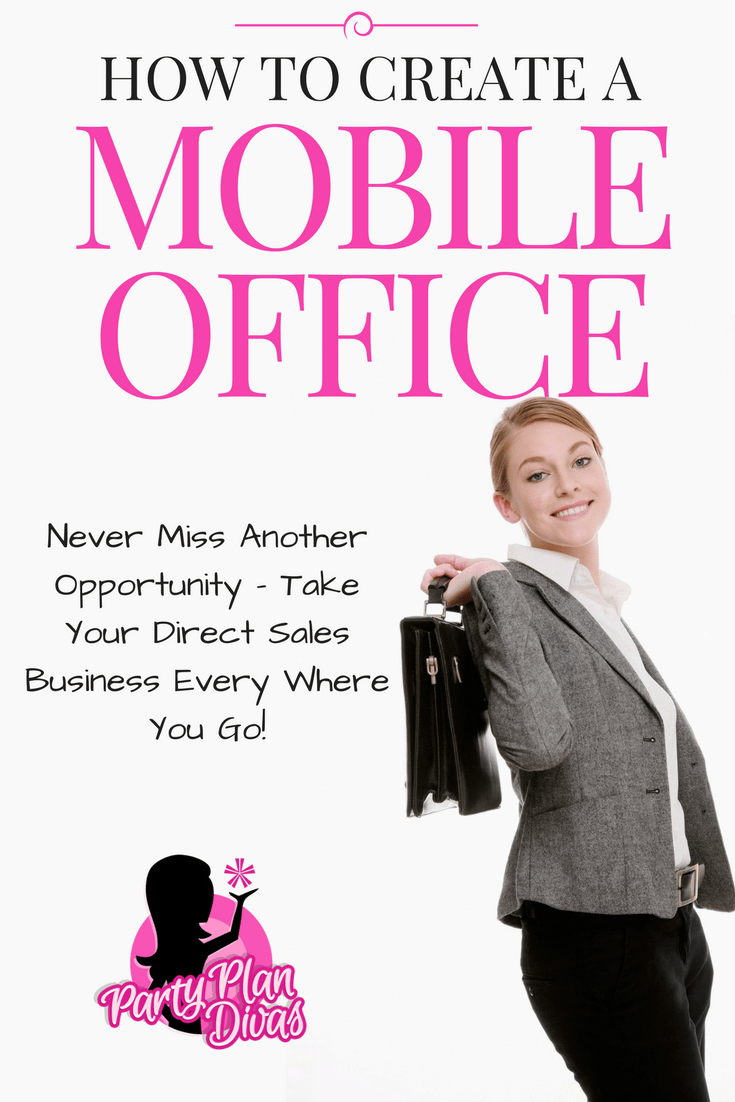 This post may contain affiliate links which means we receive a small commission at no cost to you when you make a purchase. As an Amazon Associate, I earn from qualifying purchases.
In a Mobile Office, you will keep everything you need to book parties, make contacts, recruit, etc – the basic tools to run your business. Do not over think this – you want this to be easy, organized, and portable.
If you fill it too full, you will never carry it around. You need it to hold everything you need, while still being portable enough to carry into your home parties, vendor events, networking meetings, etc.
You can build your Mobile Office in a large tote bag, divided briefcase, or even a portable file box that can be purchased from any office supply store.
You want your Office to have enough dividers and places for you to put the tools that you need and keep them organized and safe from tattered edges or creases.
You will need the following:
File Box
Hanging File Folders
1/3 Cut File Folders
Ink Pens
Recruit Packets
Your Party Bank
Flyers
Business Cards
Catalogs
Order Form
Calculator
Samples
Before putting anything into your Mobile Office, make sure that everything has your name on it so that you can quickly grab a catalog to give to a waitress or someone in a parking lot who sees your car signs.
Having it readily available, with your information, and in good shape is another way to make a great first impression.
Also, be sure to keep your Mobile Office stocked and ready at all times! If you follow The Diva Success System, it suggests that you restock and refresh your Mobile Office each month as part of your first of the month task list.
Remember, marketing opportunities present themselves when you least expect it. When you are organized and prepared, you will not panic when the opportunity arises.
Keeping your Mobile Office stocked and readily available will help you to never miss an opportunity to build your business ever again!

Take A Closer Look At PartyPlanDivas
PartyPlanDivas is the largest Online Training Community for Direct Sales Professionals. For over twelve years PartyPlanDivas has been a trusted community for training and support in every aspect of the direct sales industry. With a firm foundation of Time Management and Organization, the Diva Success System has helped tens of thousands of Direct Sales Consultants worldwide to be more successful, less stressed, and have time for what matters most – our loved ones.
Join Our Free Community
Join thousands of "Divas" from all over the world to learn business building ideas, gain support, ask questions, and more! With PartyPlanDivas you'll become better organized, less stressed, and more successful with your Direct Sales Business.