Leadership Training – Direct Sales Time Management
When it comes to time management in the direct sales industry, finding the way to organize what you do for your own personal business and what you do to help your team can be a tricky task.
Managing your time
as a Consultant is difficult enough, but add in a team and suddenly you are being pulled in even more directions.
How do you know how much time to spend working your own business versus time spent working with your team?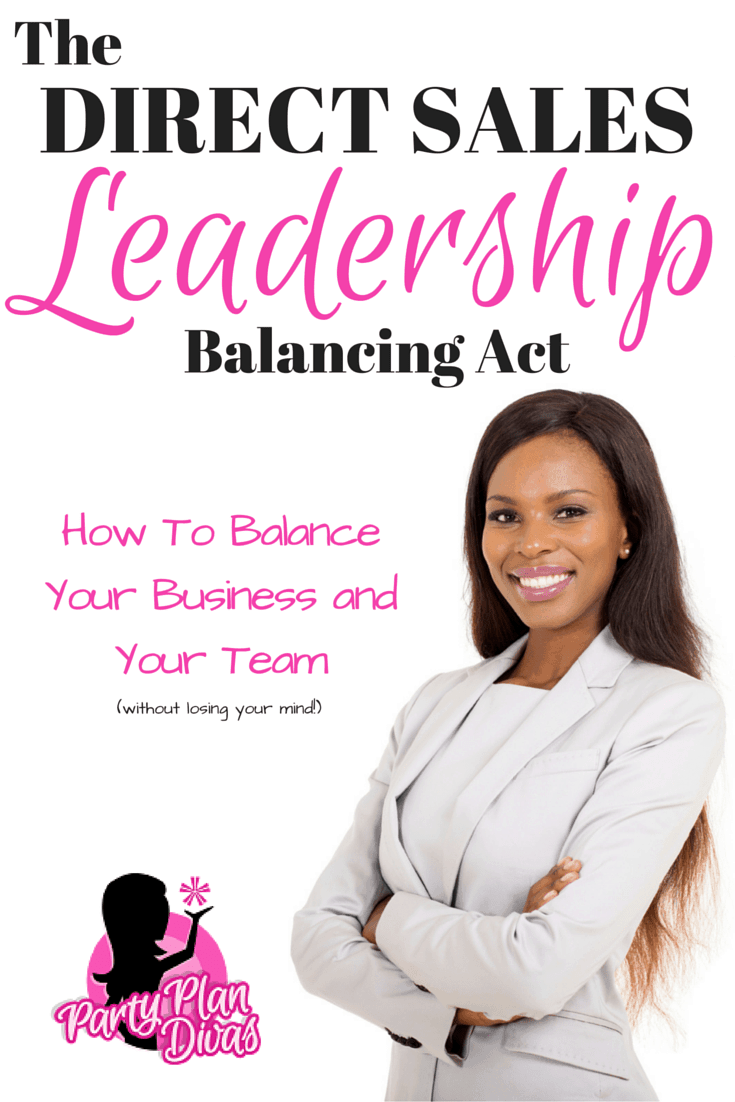 This post may contain affiliate links which means we receive a small commission at no cost to you when you make a purchase. As an Amazon Associate, I earn from qualifying purchases.
The most successful Leaders in the Party Plan Industry will tell you there is one word to keep in your mind at all times in this industry – BALANCE.
Whether you are talking about the balance between work and home, the balance between your personal business and your team, or the balance between sales and recruiting, the #1 best thing that you can do for yourself and your business is to strive to always be in BALANCE.
Sound impossible? It really isn't. Let's look at some ways to find the balance and get control of your time!
However, as your team grows and the demands increase, often times Leaders find themselves working with their team what feels like "every waking minute" which leaves little time for their own business, and for their loved ones.
Obviously, the balance between two parts is 50/50 – simply put, this means your work time should be split to 50% on your own personal business, and 50% on working with your team.
Direct Sales Leadership Time Management
Your Office Hours.
Every Leader must schedule time for her team. By offering her undivided attention to her downline on certain days, your Consultants will be able to schedule their coaching times within your schedule.
For instance, consider scheduling all of your one-on-one coaching on "Team Tuesdays" (per The Diva Success System) so your Consultants know you have prioritized and made time for them each week specifically for one on one coaching.
This does not mean that Tuesday's are the only day you are available, of course, but schedule specific times with each consultant where they know they will have your undivided attention.
Weekly Webinars Training.
Having a one-hour weekly webinar with your team is a great way to get training out to a large group at one time.
Schedule your training to be the same day and time each week, so that your members will know exactly when they are, and when to tell their new members to join in as well.
On your webinar, you will go over any Recognition, Incentives, Corporate Happenings, etc as well as training and a Q&A section.
Services like Zoom and ClickMeeting are great for video webinars – you can feel like your team is all in the same room!
You can also record these calls and webinars to be embedded into your training website, or downloaded for future training.
Also check out how you can use Facebook Live to conduct meetings as well.
On Call Contact Methods.
Obviously in order to coach and work with your Downline, you need to be reachable. This is another great way to put in some boundaries around your time.
Using a service like Skype, InstantMessenger, Facebook Messenger, etc allows you to control when you are reached. Simply put – if you are logged in, you are available.
Also, encourage your team to use text messaging and email over the phone on days that are not scheduled for coaching.
On the phone we all have a tendency to lose focus and start talking about life, the weather, family, etc and before you know it, you have spent an hour on the phone and gotten very little done.
style="font-size:24px">Facebook Groups
This has to be my favorite service for team building, training, support, and coaching. Even if you only have 2 people on your team – start a Facebook Group and load it with resources!
Facebook Groups allow for an open discussion forum, hold files, videos, training resources – you can even hold events and broadcast live! The sky is the limit for what all you can do!
You can set the privacy to moderate new members so that you only allow your team members into the group.
If a team member has a problem/question, she can post a message to the team Facebook Group, and get answers from all of the other team members as well as from you.
Obviously, you want your team to always feel that you are there for them and that you support them, but having boundaries and balance is crucial to the longevity of your business.
Remember also that your team will mirror what you do – so implementing these boundaries will pave the way for your up and coming Leaders to do the same.
If you look stressed, over worked, and overwhelmed – "Leadership" will not look very attractive.
Showing that you can, in fact, have a fantastic team and personal business, while still maintaining a relaxed and balanced life is the key to building a strong and active team.