LAST Minute Holiday Sales Ideas
With Thanksgiving, Black Friday, Small Business Saturday and even Cyber Monday already past, is it too late for to grab holiday sales? No way.
"A recent study shows more than half of consumers expect the best holiday deals between Thanksgiving and Christmas. With the National Retail Federation predicting holiday sales to grow 4.1 percent this year—the most optimistic forecast since the recession—you can still lure last-minute shoppers, right up until Santa loads his sleigh."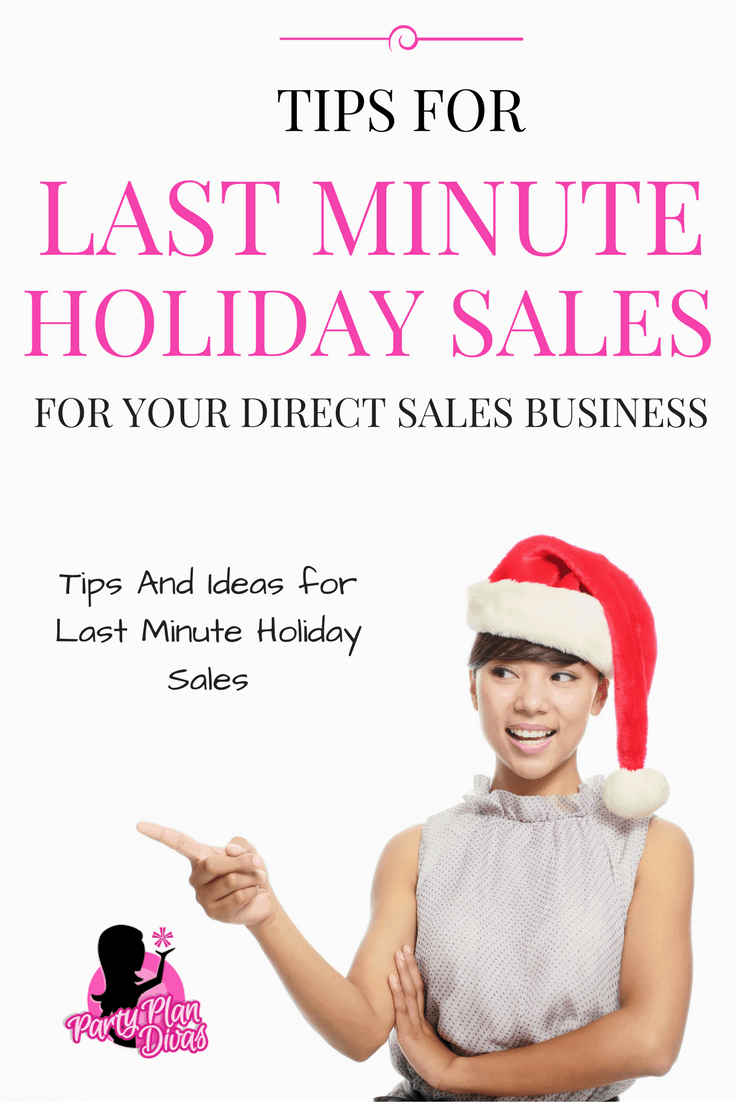 This post may contain affiliate links which means we receive a small commission at no cost to you when you make a purchase. As an Amazon Associate, I earn from qualifying purchases.
LAST Minute Holiday Sales Ideas
Market "Last Minute" – Create a sense of urgency with your marketing! People never like to "miss" a deal! Use phrases such as "last minute," "while supplies last," "get it before they are gone."
Open House – Host an Open House at your home or office to try and sell off any remaining inventory you may have, plus offer great specials exclusive to everyone who attends.
Create gift baskets and go Gardening – Pretty up gift baskets and sets to make them "ready to gift" and go gardening. Stop by locations you frequent – maybe Starbucks, your local mom and pop store, your partners place of business, and announce you are "helping Santa out a bit" this year with gifts for everyone ready to go!
Offer Purchase with Purchase Incentives – Upselling made easy! Create Purchase with Purchase Incentives to boost last minute sales. Order a warmer, receive a free melt. Order a skin care set receive a free eye cream. Order a kitchen product receive a free dip mix. The sky is the limit!
BounceBack Coupons – Offer Bounce Back Coupons for anyone who orders now through Christmas. Bounce Back Coupons are also a great way to boost your January Sales!
"Clearance Sales" – Before you knock it – you have to know they WORK! Don't we always shop the "clearance rack" first?
Making a List and Checking It Twice… Now is the time to contact your mailing list… TWICE. Procrastination runs rampant, and many shoppers admit to having several more gifts to buy before the holidays. Why not contact them and do the shopping for them right from your catalog?
Offer free shipping. If you do sell online, free shipping is a must, says Mitchell Harper, co-CEO of Bigcommerce. Harper cites data from lab42 that "79 percent of shoppers prefer free shipping to discounts on products." You can make it contingent on a certain purchase level, such as over $50.
Add Holiday greetings with every order. Including a little greeting card with your shipments helps to build long term repeat customer relationships. Include an invitation to shop again after the holiday craziness.
Let us not forget…. The Men! This is the perfect market to tap into this time of year. Men, in general, hate to shop. They are GOING to spend money on the women they love, whether it is a wife, girlfriend, mother, sister, aunt, daughter… or all of the above. Market yourself as his "personal shopper" and he will use you for life! They will also recommend you to their buddies!!
Do gift-wrap for free – you do not have to be an expert wrapper for this. The point is to make the gift beautiful and CONVENIENT.
Make it easy – Do everything you can to make your products look like instant, easy gifts. Spell it out for people– tell them exactly which products work for grandma, teacher, etc.
Remember that people are doing marketing for you – Don't waste this opportunity; be sure that whoever receives your product as a gift knows where their gift came from. Consider including a small card or gift tag which includes your name, phone number, and website address. While this won't necessarily help you make more holiday sales, it can pay off in the months (even years) following if you've gained a new fan. Who knows, maybe they'll be doing their holiday shopping with you next year?