Pure Romance Review & Giveaway
When I made the decision to change my lifestyle two years ago and get healthier, a lot of things about my body changed. My complexion got clearer, my hair got longer, my skin got… saggier.  Wait, WHAT?!
Yes, between my 20+ pound weight loss, getting older and just gravity, things are not as firm as they once were.
In fact, most women report that their skin is not as firm as they wish it was. Which is why when Independent Pure Romance Consultant Christina Callahan said she was sending in their Body Boost Firming Cream and Body Dew Silky Body Oil to help firm things up and smooth them out, I was excited to try them out!

Pure Romance is a direct sales romance company that has been focused on educating and empowering women for over 20 years. Their products are known for quality, luxury – and being discreet!
All the way to their beautiful packaging, Pure Romance knows that even the finest details are important.
Their philosophy and mission and tens of thousands of Consultants have made Pure Romance a leader in the direct sales industry.
The first product Christina sent me is the Body Boost from Pure Romance. It is a nice, thick cream that goes on well and smells amazing. It is concentrated – so a little goes a long way!
To apply you simply massage firmly into your skin in a circular motion for about 30 seconds, twice a day. The skin firming cream helps tone your skin for a smoother, tighter appearance.
Follow with Pure Romance Silky Body Oil to lock in moisture. Infused with beneficial sweet almond oil, the Pure Romance Body Dew has their signature Truly Sexy Flirt fragrance which I absolutely love!
Used together this powerhouse duo will give you soft, supple, smooth, nourished skin from head to toe! I have been using the Body Boost for several weeks now and just added in using the Body Dew… let's just say I am feeling MUCH more confident in my bathing suit these days! 😉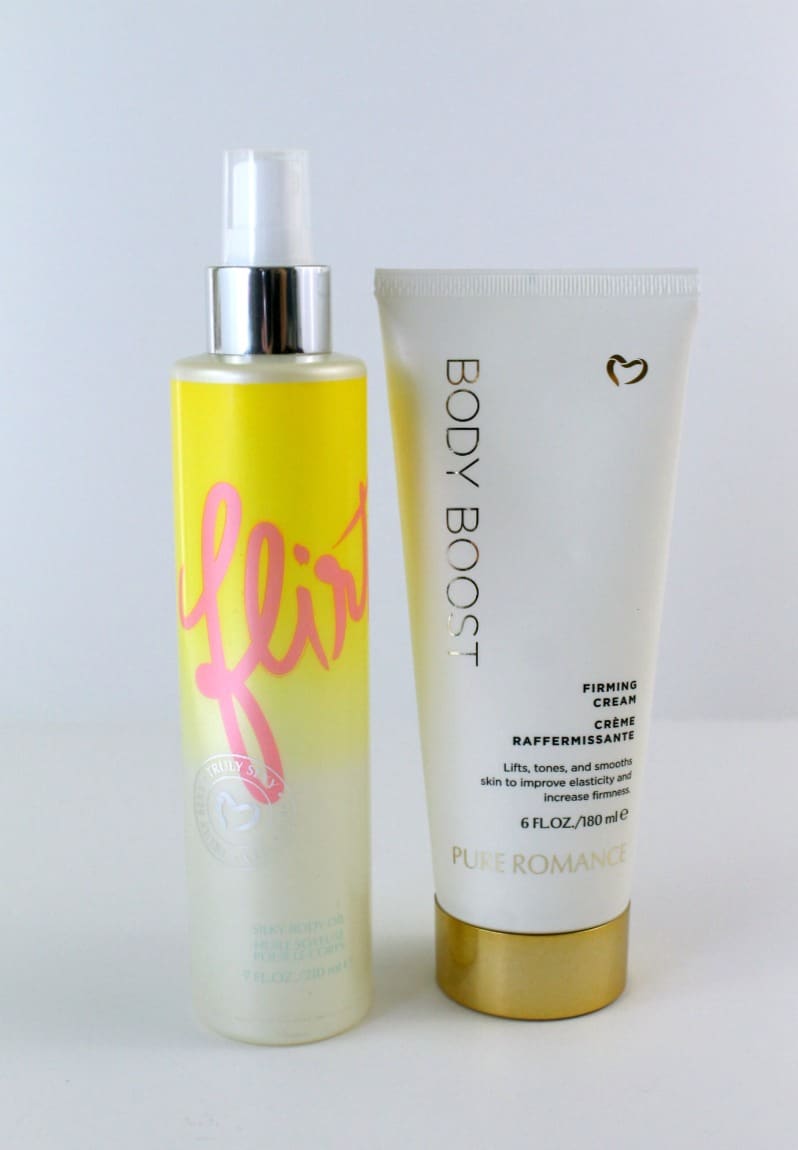 Pure Romance has a large line of products to help you look and feel your best. We know that confidence is what makes a woman sexy, and Pure Romance helps you achieve just that.
From their beautiful line of skin care and cosmetics to romance enhancers and lingerie – Pure Romance has everything you need to feel your best from morning to night.
You can host a Pure Romance Party and earn free and discounted products while having a blast with your friends!
As a Pure Romance Consultant, you join a company with over 20 years of experience and success in the romance direct sales industry.