Being a work at home mom can be tough for a number of reasons. Being your own boss may be a struggle, but it's even harder when your family and friends don't think you really work. WE know that what we do is work, but often times our loved ones see our business as a hobby or something we can put off at any time. Follow the below tips to get everyone on board with the seriousness of your job, even when you are doing it in the comfort of your own home!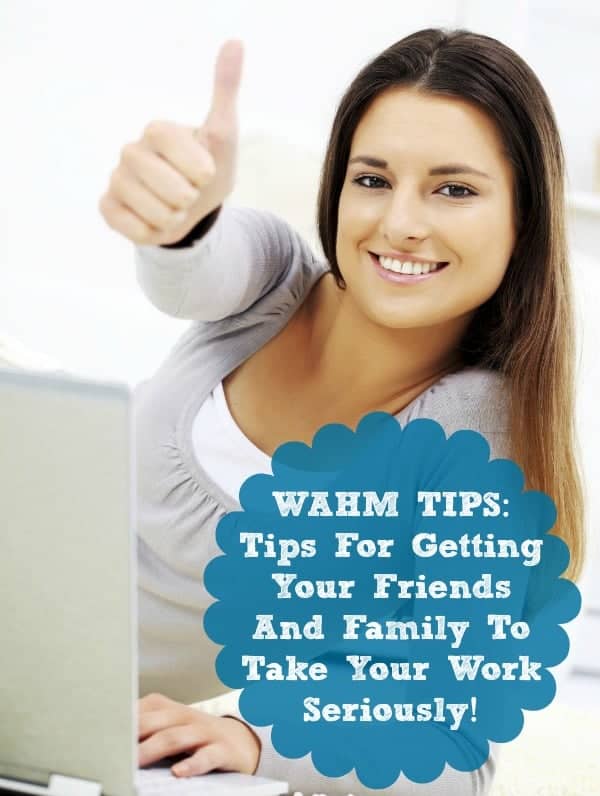 Take your own work seriously. It will be difficult to get others to view your work as a "real job" if you are constantly blowing it off to go out for lunch or shopping. No matter what you tell them, your actions will speak volumes. Set an example by creating – and following – a work schedule. This will not only help your loved ones take you seriously but will help increase your business as well.
Start telling people "no". It's a hard word for many people to speak, especially to loved ones. However, your business is important, and they need to understand that. You can't always spend your days making cupcakes for a friend or watching a family member's kids. With the exception of emergency situations, begin letting others know you are working and aren't free to socialize, run errands, or do tasks for them.
Have a dedicated workspace. Your own family may not want to except that you are seriously working when you're sprawled out in the living room recliner with your laptop and iPhone on your legs. They will be a distraction, and won't hesitate to ask you every question that comes to mind while you are trying to focus. A private space to work will make things much easier on you, and will alert everyone that they need to respect your working time.
Show off your accomplishments. While it's not necessary to give dollar figures or hang a paycheck on your wall, letting your family and friends know about the achievements you've made in your work at home journey will help them realize you really do work! When your spouse and kids are telling you about their day, be sure to bring your own success stories to the table.
Once the people close to you begin to take your work seriously, it will be easier to get others to do the same. You'll have the support you need to thrive in your work at home business, and no one will expect you to drop what you are doing when they want or need something!