A Lesson From The Pensacola Rock N Fly Half Marathon
This weekend I had the pleasure of going to the Rock 'N Fly Half Marathon to surprise and cheer on several friends of mine who were running their very first long runs.
You may remember when I set the BOLD Goal to run twelve 5ks in twelve months back in 2013 – which I finished with flying colors. You may also remember that this year I have set the BOLD Goal to do the SRI Triathlon in October.
Saturday was all about my friend Angie's BOLD Goal – to run 13.1 mile and finish her first half marathon. While I was only a part of the cheering squad and not part of the race, it still felt incredible just being there.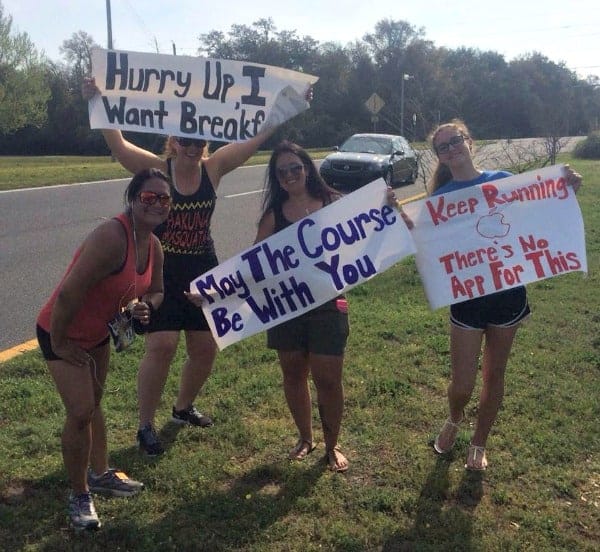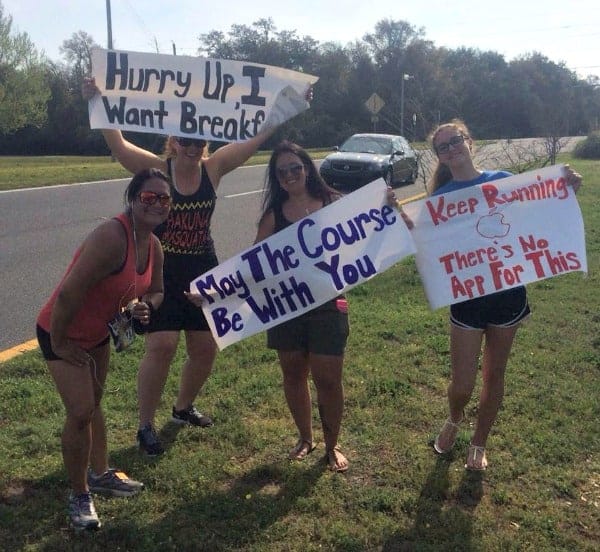 What struck me as interesting was even though there were nearly 3,000 runners… we were the only ones with signs along the race course. There were a few signs at the end – but absolutely none along the 13.1-mile course.
And while we really only went to cheer on our couple of friends, we were told by hundreds of runners how much they loved the signs and thanked us for just BEING THERE to cheer them along. 
How many times in our business do we wish we had a cheering squad along the way?
Sure it is great to hit a milestone or a sales goal or even a recruiting goal… but what about all the path that it took to get there?  
We knew that our friend said that she often "hit a wall" around mile six. So even though we parked near mile eight, we walked the nearly two miles to get close to mile six to cheer her on. (Bonus – we all completed our own 5k with the walk there and back to the car lol)
She had no idea we were going to be there – and she has said numerous times since that looking up and seeing us there cheering her on gave her the strength she needed to finish the race.  
As a Leader it is important to know where your team members "hit a wall" with their business so that you can be right there cheering them through it.
Is their wall with sales? Bookings? Recruiting? Are they maybe struggling with balance or how to get it all done? Are they struggling with burnout after a particular busy or stressful time?
You never know when just simply BEING THERE will help someone win their own race.  
My challenge to all of you this week is to be a cheering squad for one another. Cheer for your upline, cheer for your downline, cheer for your sister consultants who you have never even met.
Cheer for your corporate office and the UPS driver. If we all did this – we would all get the cheers – and the motivation – that we deserve.  
I have no plans to ever run a half marathon, however you can bet that I will be there with signs to cheer on and support every single one of them along the way.