20 Ways To Grow Your Business
When it comes to ways to grow your business, how you spend your time truly matters. The more effort and energy you put into establishing your presence and building a name for yourself, the greater your results will be.
Want to propel your small business forward but aren't sure where to start? Here are 20 powerful tips, strategies, and techniques you can embrace to grow your small business.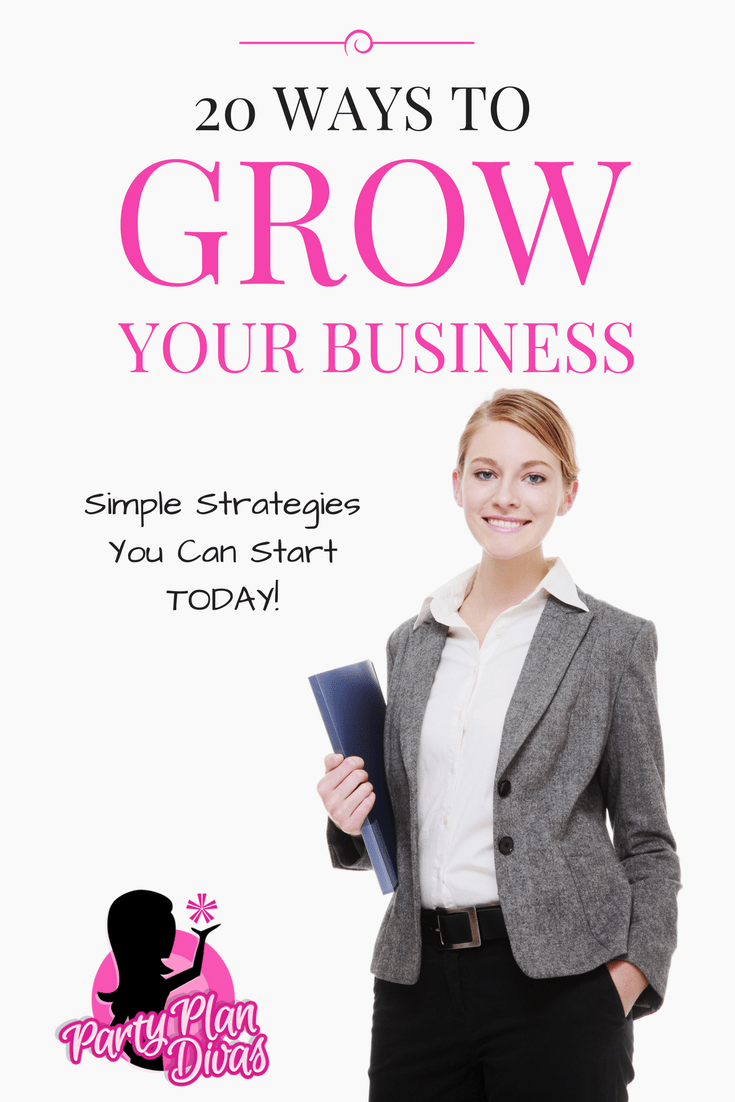 This post may contain affiliate links which means we receive a small commission at no cost to you when you make a purchase. As an Amazon Associate, I earn from qualifying purchases.
01 – Establish a mission and vision. Your Company may already have one – but do you have a personal mission statement? Creating an official mission and vision will give you something to strive for each day. It's a great motivator and adds a little credibility to your business.
02 – Build your email list. Your email list is an invaluable connection between your business and your potential clients that YOU can control!
With social media algorithms making it harder and harder to reach your audience, an email list is an easy way to get in front of your people fast. Don't neglect it!
03 – Network with others. Even if your small business is mostly virtual, having a network of other professionals to support and motivate you can be incredibly powerful.
Attend local MeetUps or entrepreneurial events to learn and help get the word out about your business.
04 – Hire help when you need it. If you feel like you can't take on any more but have lots of things on your to-do list that require attention, consider finding a virtual assistant.
A great VA can often help with administrative stuff so you can really focus on growing your business.
05 – Advertise wisely. Every business must spend money on advertising – but where that money is spent best comes from a variety of factors.
Consider your audience carefully and spend your money where you'll find your ideal customers.
06 – Invest in yourself. If you feel like you're missing a skill you need to take your business to the next level, don't be afraid to spend a little money on yourself.
You can sometimes find a free online course to get what you need, but seminars, courses and coaches can be great investments.
07 – Assess the competition. While there is not "competition" in the direct sales industry in the traditional sense, itis important to pay attention to what others are doing around you.
Really critique your competition. What advantages do they have over you? What changes can you make to become more competitive?
08 – Perfect your brand. Your brand speaks volumes about you and your business and creates a first impression not easily shaken.
Branding is what people will remember more than anything else. Make sure your brand is on target and resonates with you and your audience.
09 – Reevaluate everything you have to offer. Don't sell yourself short. Evaluate the market and, if it makes sense, consider shaking up your marketing model.
Does your presentation need an upgrade? Do you need a new Party Game to get excited about? Is there a demographic of people who would benefit from your product that you have not spoken to yet?
10 – Embrace social media in a big way. In today's market, being present on social media is a must.
Master Instagram, Facebook and other forms of social media and you'll be able to tap into a seemingly endless network of fans, followers, and customers.
11 – Sell locally. Online business is great – but make sure you are not missing opportunities in your own backyard.
Set up a booth at a craft fair, farmers' market or other local event where you can connect with potential clients.
12 – Find partners. Explore the possibility of partnering with other businesses with a Community Partner Program.
It's always great to be able to build up another business while helping your own grow.
13 – Share your knowledge. If you're good at what you do or are an expert in your field, establish your presence by sharing your knowledge.
Write a blog post,
post a video or sit down and interview on a podcast for some visibility.
14 – Ask for Referrals. Don't be afraid to ask "who do you know who…" to your current customers.
Referrals are a great opportunity to learn a bit about a potential customer and cater your pitch to their specific needs.
15 – Expand your offerings. Think about what other services or products you could provide your clients.
Are there any gaps? Is there anything else you're good at? Embrace the opportunity to attract a new audience or further entice your existing one.
16 – Find a mentor. A mentor can share tremendous knowledge and insight to help you become a better business owner.
Look for mentors within your upline or consider starting a Mastermind with other business owners.
17 – Get testimonials. If you're selling a product, you need reviews. Honest client testimonials go a long way in helping potential customers make the decision to buy.
Consider offering services at a reduced rate in exchange for feedback, especially if you're just launching your business.
18 – Provide great customer care. Again, this applies whether you're selling a product, a service or a skill.
Treat people well. Be prompt, courteous and professional, and your reputation alone will help your business grow.
19 – Be memorable. Every other person in your business offers the same products, same Host plan, and same compensation plan – what can YOU do to stand out?
Whether you're known for your catchy slogan, exceptional customer care or on-point branding, do something to stick out from the crowd.
20 – Believe in what you're doing. One of the most powerful ways to grow your small business is to have conviction and be truly passionate about the business you're building.
If you believe in your cause, you'll be amazed how far your dedication and drive will get you.