Build a Business Blog – Your Why
Blogging is a great way to increase your online presence as a direct sales professional. Sure you probably have your own replicating website and of course you have all of your social media outlets… but how do you tie them all into one place to really secure yourself online?
A self-hosted WordPress blog will do exactly that – plus give you a place to connect with your customers, help you show up in search engines, and truly set yourself apart from the tens of thousands of other direct sales consultants in your company.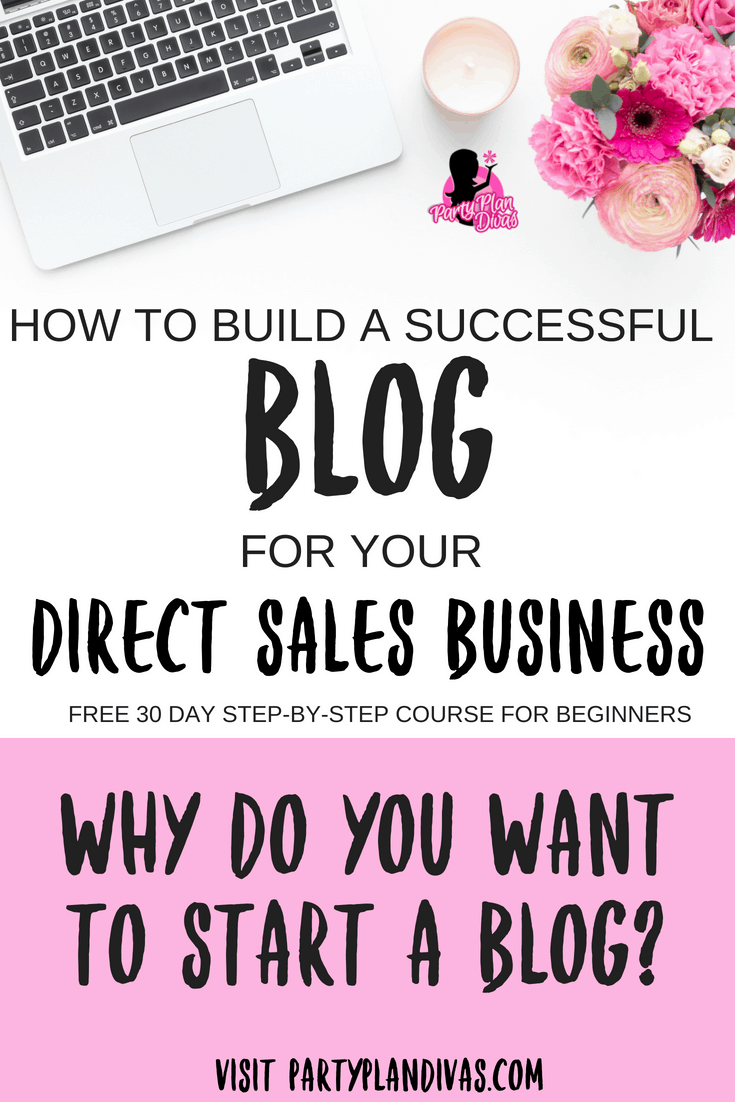 This post may contain affiliate links which means we receive a small commission at no cost to you when you make a purchase. As an Amazon Associate, I earn from qualifying purchases.
Sounds perfect, right?
Well, it is and it isn't. Blogging – like every other aspect of business – requires time, effort, and commitment. There will be days you get frustrated, days you wonder why you ever started, and days you simply want to quit. (Sound familiar?!)
There may even be days you forget about it entirely amongst the million-and-one other tasks you have to do.
That is why with a blog – just like with your direct sales business – it is important to have a clear understanding of WHY you are doing this.
1) Define success: Before you begin, spend some time really thinking about what you want to achieve with your blog. Have some goals to define what success is to YOU.
With your direct sales company, you have benchmarks for success – your success plan, leadership structure, incentives, etc. You will want to have the same thing for your blog.
What do you want to accomplish? What will success look like for you? What do you wish to achieve with your online presence?
One thing I caution against, especially as a 'newbie' to the blogosphere, is to define how successful you are based on your traffic. Traffic is only one measurement for blog success.
Others include engagement, returning visitors, clicks, and more. Building up a steady flow of inbound visitors takes links, google love, interesting content, social networking, and time.
If you check your statistics every moment, they are very likely to frustrate you and cause you to lose focus. Checking once a few times a week is more than enough to stay on track and gauge your growth.
2) Your visitors should know what to expect: Having consistent online writing schedule lets your returning visitors know what to expect from you.
Do you publish product reviews on Monday? Share a training tip on Tuesday? Go "behind the scenes" with your life on Wednesday? Share your favorite "Party Night" Crockpot Recipe on Thursday?
Whatever you do, try to create an expected schedule that proves to your visitors that you are an active business owner with content. If you sporadically post, you will receive sporadic traffic. Visitors want consistency, and they want to read new, exciting, relevant content.
If you blog 100% business you will look like one big ad. People will not return to that daily. However, when you mix in exciting fun things like recipes, crafts, vacations, reviews, and funny life stories, you will gain a following that will come back to you again and again.
Additionally, don't get so caught up twittering, Facebooking, Instagramming, and marketing that you fail what sent you there in the first place: TO GROW YOUR BUSINESS. Your blog should be your shining light – with your social media being a guiding light to it.
3) Don't try to be someone else: They say that "Comparison is the Thief of Joy" – and that could not be more true with our industry. Your blog is a place where you get to truly show off the one thing no one else in your business has – and that is YOU.
Everyone in your company offers the same products, the same host rewards, the same compensation plan… they ONLY thing no one else has is YOU – so let your blog be an enormous billboard for exactly why someone should do business with YOU.
There is only – and forever will be – ONE you. So BE you. Be proud. YOU are fantastic. Now – show the world.
4) Don't spread yourself too thin: There is a lot you can do online, but it doesn't mean you should do it. You can't be in an online meeting all day.
Once you get into the blogosphere, you realize that social networking can really take it out of you – if you have not discovered that already just running your direct sales company!!
Blogging will take time, but it needs to have the same priority as the other parts of your business – no more or no less. The only thing worse than a completely abandoned blog is a half-way done blog.
Schedule your blogging time in the same way you schedule hostess coaching, customer care, team coaching, etc. When your allotted time is over – close it down and come back to it when it is time again. Do not let it take over.
5) Be realistic: While I strongly encourage goals and am a firm believer that nothing is unachievable, be realistic. 1.2 million visitors 30 days after opening your blog isn't realistic. It takes Time.
Longevity and perseverance are a bloggers best friend. While there can be short term success and even viral rewards, to gain a long-standing and interested audience takes time.
Think of your blog visitors like friends. You don't just rush into a slumber party with someone you met at the park. Get to know your readers, respond to them in the comments, visit their blogs if they have one, engage in online meet-ups amongst other bloggers – all of this takes time and is not done overnight.
Final Thoughts…
Content is only part of the equation. Adding real life pictures, quotes, quirks that are YOU and only YOU is what fundamentally paves your road to success.
Your customers want to know you. They want to like you. They want to trust you. And the way to help them do that is to be transparent and real right there on your blog.
Now, this does not mean to start sharing every intimate detail of your life or to air any dirty laundry – always always ALWAYS maintain your professionalism – but it does mean that you can share surface things – like a day trip to the park or maybe a personal goal you have achieved (even if it is only that you made the bed every day for a week!)
Think about the kind of content you would want to read, and then begin writing. Soon you will find your groove.
Now that you are excited about this journey, its time to do some homework!
HOMEWORK:
1. Decide your "Why" and write it down. You will come back to this often both for help and inspiration.
2. Figure out five categories of topics that you want to blog about. These can change later – but begin thinking about what other content you want to create that is unrelated to your direct sales business.