Direct Sales Recruiting – The Power Of Two
The number two is so important in our business – 2 parties per week, 2 bookings from each party, 2 outside orders each week, etc. In this training, we are going to talk about the goal of recruiting 2 new Consultants each month and teaching them to recruit 2 as well.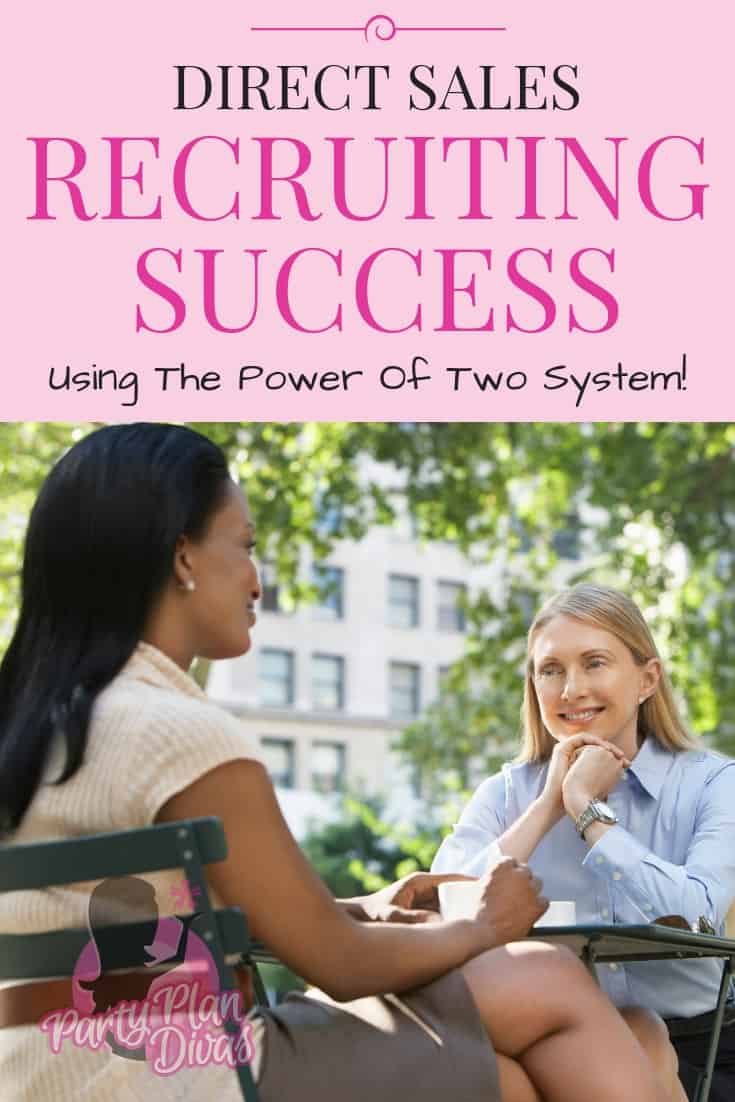 This post may contain affiliate links which means we receive a small commission at no cost to you when you make a purchase. As an Amazon Associate, I earn from qualifying purchases.
Don't get overwhelmed trying to recruit a gazillion people – remember the saying "Slow and steady wins the race."
By recruiting 2 Consultants and teaching your new consultants to do the same (and training their Consultants to do the same) in one year you will have built an empire of 360 Divas!!!
Law Of Averages
It has been said that 1 in every 5 people you introduce your products to will be interested in hosting a party, and 1 in every 10 will be interested in the business opportunity.
This is why setting the goal to book two parties each week is so important – to get in front of enough people!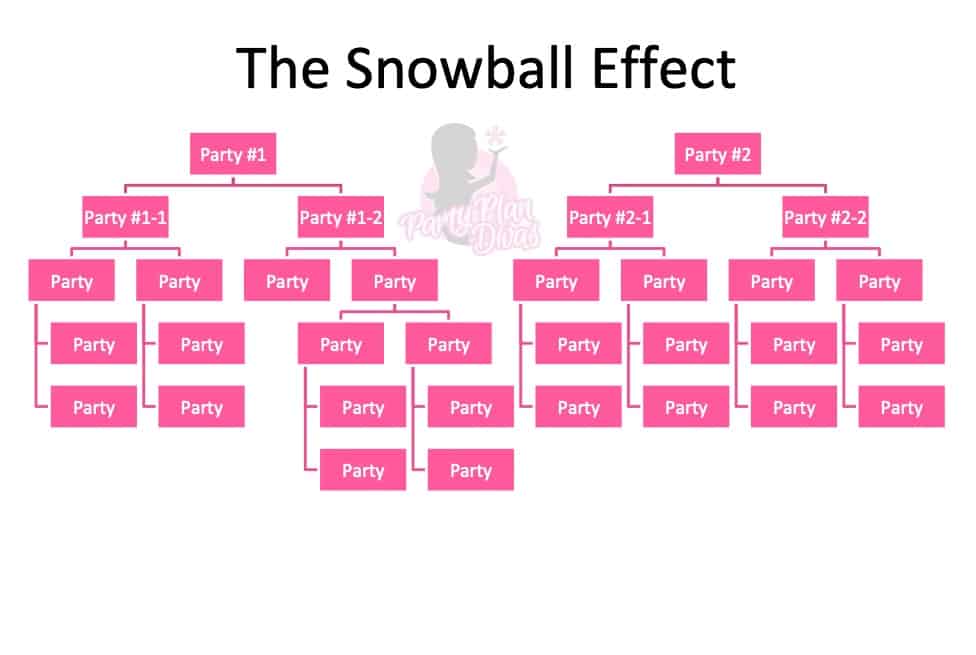 This exact same "snowball" effect can happen with Recruiting a Direct Sales Team too! Each month you focus on recruiting 2 new team members and teach them to do the same.
EVERY month focus on adding only 2 new team members, and your team will grow exponentially!
In just 3 months you could have 22 members on your Direct Sales Team! How great would that be?! THIS is the Power of Two!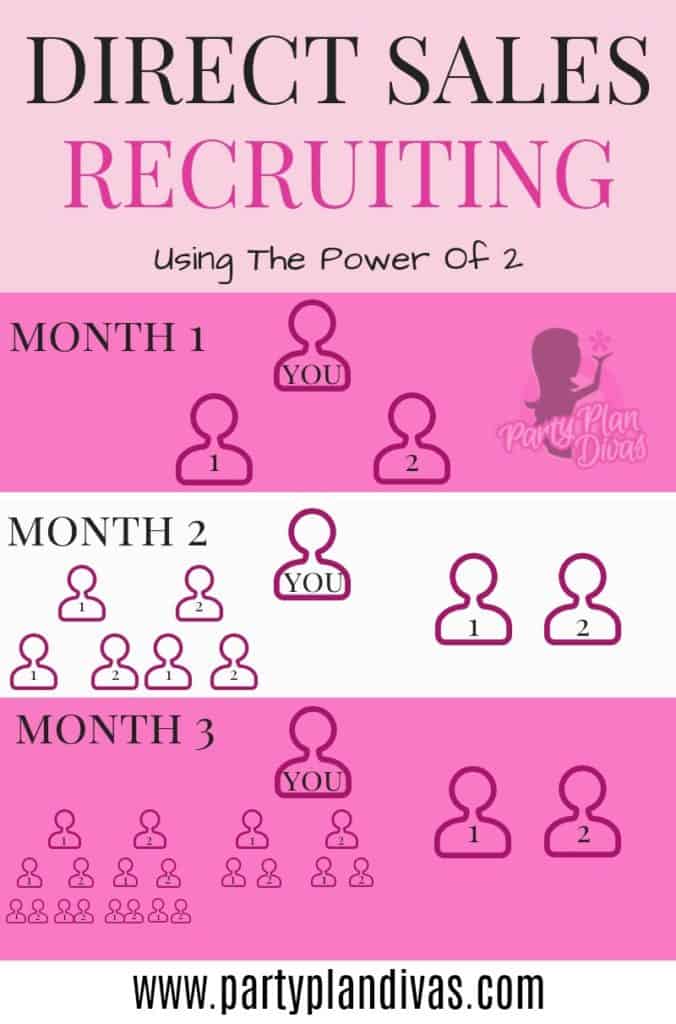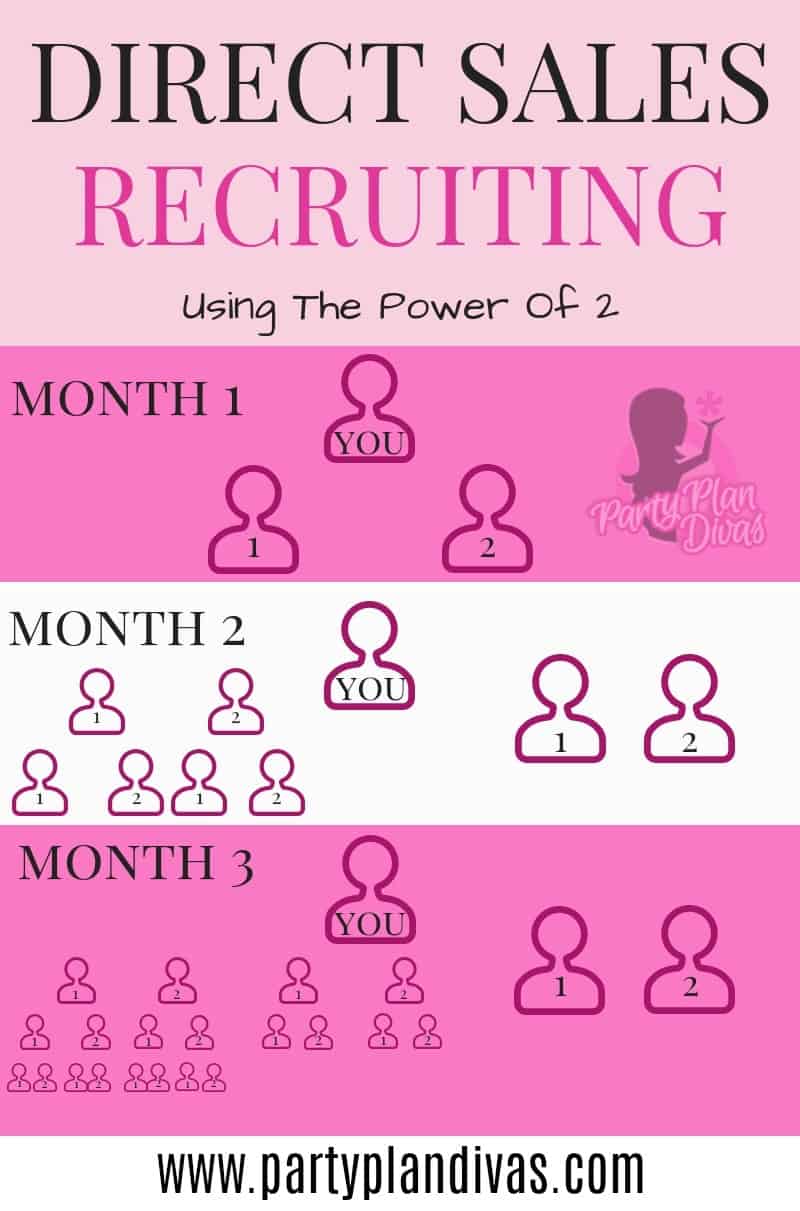 With this system you take the pressure off feeling like you have to recruit a bazillion new team members each and every month. You are able to focus and properly training two new consultants each month pressure free!
How To Recruit 2 New Team Members Every Month
Now that we have our Monthly Recruiting Goal set, let's discuss some easy ways to ensure you get it done!
The Kick-Off Party
The Kick-Off Party is a simple way to add recruits to your team! When you have someone who is interested in the business – even if just a little bit – you can offer to throw a Kick-Off Party!
Listen For Green Lights
When someone gives you a Green Light about the business, you simply say
"Terrific – let's schedule you a Kick Off Party! It works just like you are a hostess, except instead of getting XX% in free products, (or whatever your hostess program allows) we can put that money towards your Consultant Kit. AND any parties that book from your party are YOUR first parties, anyone who is interested in the business is going to be YOUR first partner, and of course, all the clients from that night are yours! So we can bring your initial cost down AND start you with business right from the start! What works better for you – a weekend or a weekday?"
Be Duplicable Every Day
With social media being the #1 online activity for most adults, it is important to make sure you are modeling the business opportunity in a way that is positive and exciting.
When you make the direct sales industry look appealing, Recruiting will become much easier.
Having a System for Success which keeps the business easy and duplicatable is the key to recruiting 2 new team members every single month.
Keep Your Presentations Short & Sweet
Recruiting
is a breeze at
Direct Sales Parties
. You
ave
a captive audience of people wanting to learn more about your products – and loving the products is the #1 factor in joining the business!
Show how you don't have to know the Encyclopedia to do a party, nor do you have to be an Accountant to make money. A short, sweet presentation is key to having the "I can do that" response.
You can also use this Direct Sales Recruiting Tool at your parties to help gain interest in your business opportunity.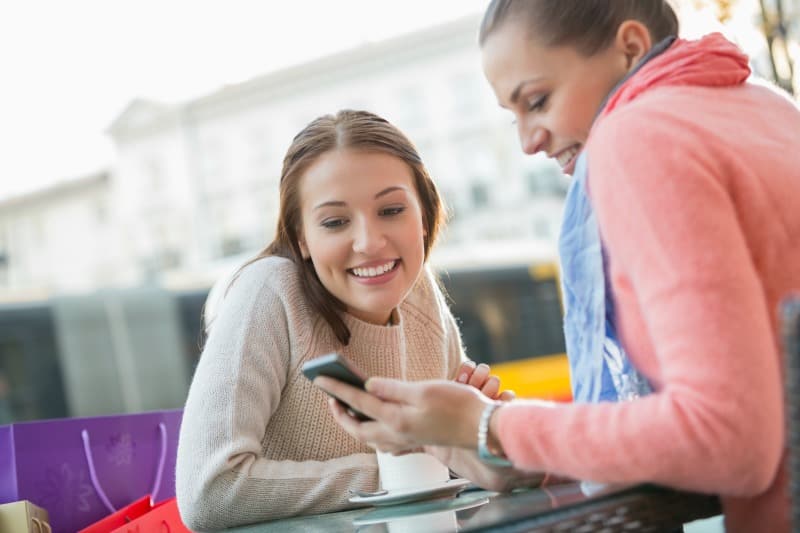 Mess Up On Purpose
Yes, you read that right. We are all human, so do not be robotic. Drop something, or forget something – anything to show that you don't have to be PERFECT to do this business.
Demo Amounts
There is something to be said about not having one of everything your company has to offer.
Do not fill your presentation table with gazillion products. A potential recruit may be turned off thinking that SHE will be expected to carry all of that as well.
Be Consistent
Again, simplicity is key. When you are together and consistent, she will know you are a great person to work for and with.
Consistency with your parties rolls over into consistency with your team.