Keys to Effective Goal Setting
Have you ever set a goal that you did not achieve? Of course, you have – we ALL have! Many people I coach are so sick of this process they avoid setting goals altogether.
But goal setting is a critical part of the success of your direct sales business. Goals are the very foundation of every activity you do! Goals are the destination on your road trip to success!
When you set goals that are not only congruent with where you want to be in life but also with your heart and mind, (read: not just what your success plan has) that is when you find true success. Here are five components to help you set goals that you will achieve.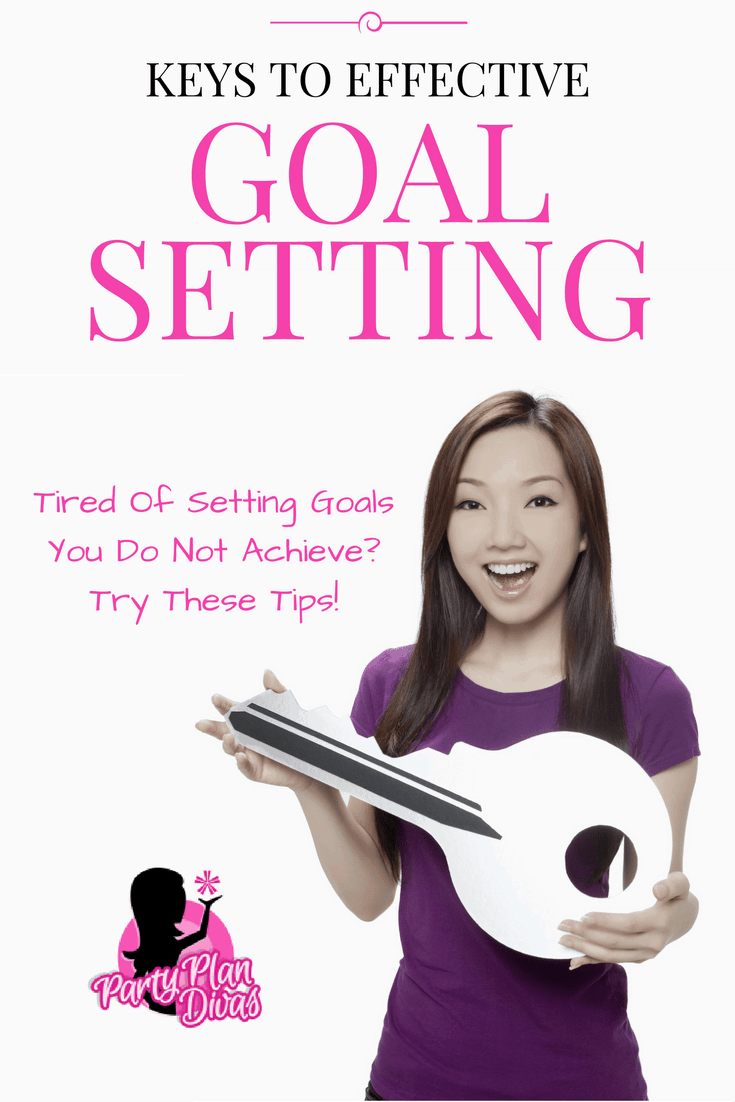 This post may contain affiliate links which means we receive a small commission at no cost to you when you make a purchase. As an Amazon Associate, I earn from qualifying purchases.
Keys to Effective Goal Setting
#1 Know What You Are Passionate About – Often the problem with goals isn't in setting them but being motivated to actually achieve the goals you have set.
Think about what really gets you motivated. I'm not talking about simply your direct sales company or my latest ebook (ha!) but rather ~ "what drives your dreams."
What are the things you would do even if you were not getting paid? What things give you the most satisfaction when you are doing them? These are your true passions.
Your passions need to be able to get behind your list of goals and fuel the fire that makes you ACT. Goal setting without action is simply a diversion from the actual "work" of making things happen.
[Tweet "Money is not a motivator – it is what that money ACHIEVES that moves you!"]
#2 Have a Vision – What will it look like when you achieve your goal? When you have a vivid image of how your business will look in the future, you will be able to set all of your daily, weekly and monthly goals based on that vision.
Spend some time imagining what the end result looks like. What will you do every day? What will a typical day be like? How will your life be different when you achieve your goals?
Try to imagine the feeling of having achieved your goals – and think of all the ways your life may change. Spend a few minutes every day on this vision.
You can even Create A Vision Board to have a visual representation of your goals.
#3 Be Brutally Honest – Setting goals means being honest with yourself and others. Look deep inside yourself. Know your strengths and weaknesses.
Don't pretend to have skills or talents that simply do not exist within you. It is a major waste of your time and energy to strive to be someone else – you can be wildly, fiercely, unabashedly YOU… and still achieve any goal you ever set.
Your vision, passion, and gifts that exist within you will carry you toward your goals. One of the most beautiful parts of the direct sales industry is that everyone – truly everyone – can be a success.
No matter your age, size, color, personality – this industry embraces you! As Shakespeare wrote, "To thine own self-be true."
#4 Set Goals that are Yours to Achieve – Your goals must be literally "Your Goals." It doesn't seem possible for you to be passionate about someone else's goals – so do not stress over trying to achieve what someone else tells you that you should.
In direct sales we are given a success plan… which is only meant to be a part of your road to success. What is it that you truly want in your future?
If you do not want to be a top director – that is fine! What DO you want to be? Look at your life and your vision then set goals that you will walk through fire to achieve.
[Tweet "Remember to set goals that are YOURS – not what someone else says you should do!"]
#5 Live a Life of Action – Always be moving forward. Remember to spend less time on setting your goals and more time acting on them.
Stay in Motion. If you have a tendency to get stuck in the "planning" stage of goal setting, then start with setting smaller achievable goals each day that you make a priority to reach before the end of each day.
If your goal is three home parties a week then set a goal that is yours to achieve within each day.
Can you make someone book a home party? Of course not, but YOU can take the action (i.e. a Facebook Post, an eMail Blast, 10 calls a day, etc) that means you are taking this goal seriously and investing yourself in the process of reaching that goal.
Setting goals that are YOURS – and that coincide with your passions and your dreams – will help you to achieve what you want in business and in life.