Holding a Party Open for More Sales
I had a party 2 weeks ago, only a few guests but the mother-in-law of the hostess said she would get a few outside orders. I had my information on everything for her to mail the orders/payments.

I checked in with her and the hostess a few days after the party…nothing. Then I called again and she said that she DOES have orders and will mail them into me.

Well, that was two weeks ago, and I still haven't received them! What do I do and how do I keep this from happening again?
Ahh, this, unfortunately, is all too common of a problem in our industry. Even with the best of intentions, it is seldom you will get "outside orders" AFTER the party.
And if you do, sometimes it is a hassle to actually GET THEM from the Hostess! So how do you prevent this from happening and avoid the stress of waiting and wondering?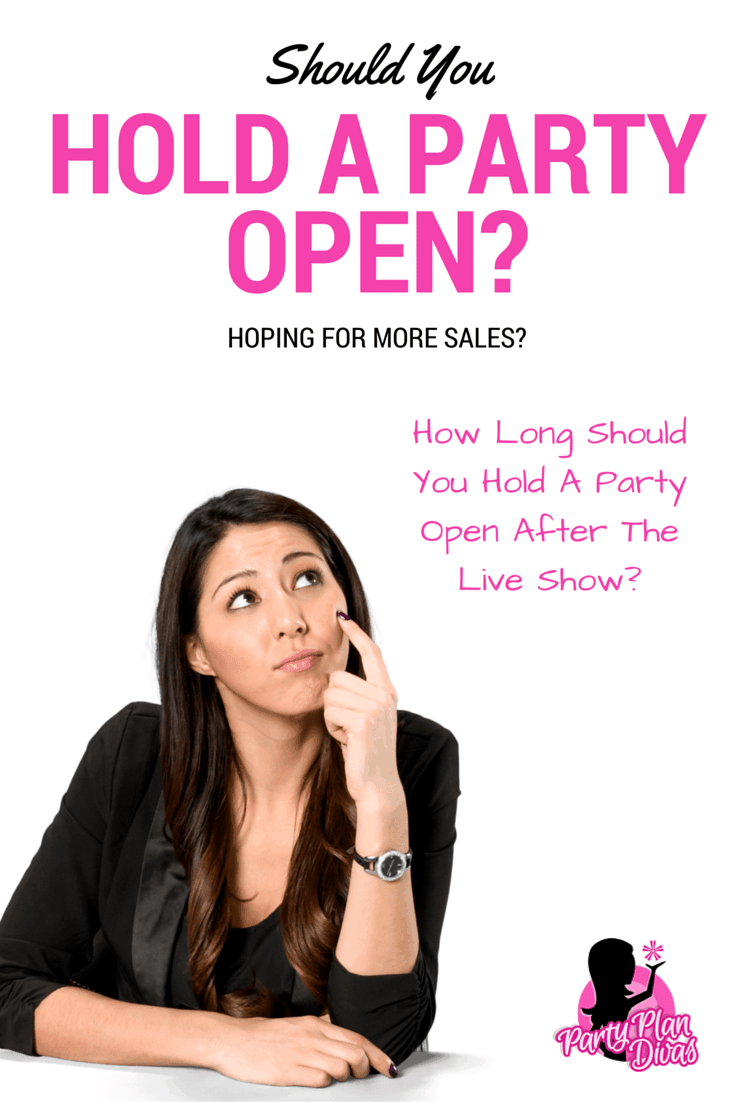 This post may contain affiliate links which means we receive a small commission at no cost to you when you make a purchase. As an Amazon Associate, I earn from qualifying purchases.
Holding a Party Open for More Sales, Do or Don't?
First, make sure you include plenty of Outside Order Forms and Catalogs in your Hostess Packet. Your Hostess is most excited and motivated BEFORE the party – not after.
Give her every opportunity to have higher party sales before the party begins.
You may even consider giving "Double Hostess Credits" on orders she takes before the party.
By giving a higher incentive, she is more likely to ask for those outside orders – which will show her just how easy it can be to sell your product.
This is, of course, lining up for a Recruiting Opportunity!
During your Hostess Coaching, ask each time if she needs additional Order Forms or Catalogs.
This is a very important part of Hostess Coaching! Do not overlook it!
Your Hostess is your #1 potential Recruit, and by having her show the catalogs around and receive orders, you are showing her that she too could make money with your company. Even if she is not interested in the Opportunity, she can significantly increase her Hostess Rewards by getting orders from people who know they will not be able to attend the party.
Close the party the night of the party.
At the end of the night, you must total up the entire party, including tallying all Hostess Rewards with the orders that have been placed.
Get any payment information for her order and "close" the party.
Let everyone at the party know that you will be closing the party that night, but anyone is welcome to do their own "Catalog Party" and have that information with you in the Ordering Room.
If your Hostess wants to try to collect more orders after the party, give her a deadline of two days to get the orders and payment to you.
Let her know you will be placing the order in two days, after the checks have cleared.
Any longer than that, and you are almost penalizing those who WERE at the party, by making them wait longer for their orders.
Assure her that you can take orders at any time, even if you need to add it to another party's group in order to do so.
Reminder her also, that as a Consultant, she could "get paid" anytime someone wanted to place an order, simply by processing the order herself.
As with anything else in our business, the most important thing is to stay in control of the process.
Make sure to respect those who DID come to the party, and did place orders – they are your new clients!
Bottom Line – Do not put the "potential" clients ahead of the ones you already have.