It is finally Fall here on the Gulf Coast – which means one thing… I CAN FINALLY START WEARING LEGGINGS AGAIN! Discovering Lula Roe Leggings last year was one of the highlights of the season, and within just a few weeks I had ordered over 20 pairs.
However, once it got stifling hot like it always does here, I had to roll my beauties up and pack them away for the Summer.
My friend and Independent Lula Roe Consultant Lynne Saine knew how sad I was to have to pack away my buttery soft garments, she wanted to introduce me to a new addiction addition to the LuLa Roe must have product line.
Meet… Carly.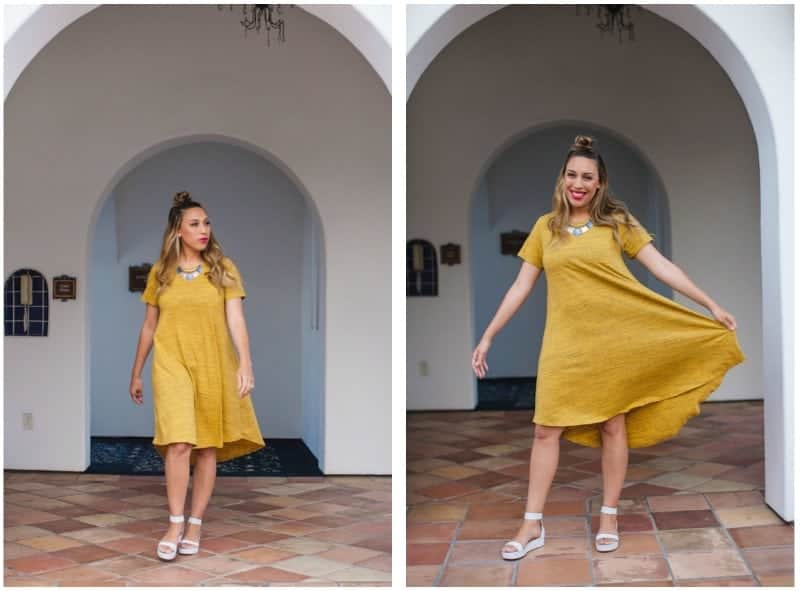 Carly is one of the newest designs from LuLa Roe and has quickly become a favorite with consultants and customers nationwide. Carly is flattering to all body types and comes in a vast variety of solids and patterns that Lula Roe is known for.
You can wear Carly alone, with a belt, with a cardigan, with a kimono… there are all kinds of ways to style her up to fit your perfect wardrobe. You can even wear her over your favorite Lula Roe leggings – which is probably what I will be doing all winter long!
Lynne knows I like the more basic prints, so she sent me a beautiful burgundy and grey striped Carly for inclusion in this year's gift guide.
Not only do I love it, but I am on the hunt now for the perfect pair of leggings to wear underneath so I can wear it all winter long!
We all want a cute dress that lets us breathe and move easier, so we are excited about the Carly – a swing dress that flatters the best parts of a feminine physique while being flowy and breezy everywhere else. The Carly comes in a wide array of fabrics, prints, and washes and has some amazing features such as a patch pocket, a flattering high-low hemline, and cool open sleeves.
Lula Roe exploded on the direct sales scene with their unique and stylish buttery soft leggings that once you understand why they were one of the hottest items around.
While Lula Roe may be most known for their leggings, they actually offer an entire line of clothing for children and women of all ages. They even have pieces for the guys too!
Their Independent Consultants hold live and online "Pop Up Boutiques" that allow to you shop, try on, and have fun putting together beautiful outfits with your friends.
Check out Lynne and her daughter in their beautiful Carly dresses!
If you have not tried LuLa Roe clothing yet – you absolutely must. There just is no two ways about it.
Their clothing makes you look and feel amazing whether you are at work, at home, or out on the town. From leggings to dresses to shirts and coverups – LuLa Roe can outfit you in style and comfort!
Check out Lynne's Lula Roe Closet to learn all about how you can get involved in LuLa Roe!