Traci Lynn Fashion Jewelry
What can I possibly say about Traci Lynn Fashion Jewelry that I have not said before? Probably nothing – because every time I have gotten the chance to gush about this gorgeous jewelry I have seized the chance!
Traci Lynn Fashion Jewelry is one of my absolute favorite direct sales companies. Their statement jewelry is some of the most uniquely beautiful pieces on the market today.
In-demand motivational speaker, author, owner and driving force behind the hugely successful direct-sales company is Dr. Traci Lynn, whose mission is to "Pass The MIC" – Motivate, Inspire, Change – and she is doing just that with beautiful jewelry, a great hostess plan and a generous business opportunity that is changing the lives of thousands of women across the country.

Independent Traci Lynn Jewelry Consultant Coretta Campbell is one of those women whose life has changed since she began with Traci Lynn Fashion Jewelry and I am excited to feature her again this year.
Coretta sent in another great piece for the 2016 Diva Holiday Gift Guide that shows off the uniqueness that Traci Lynn is known for.
The name of the set is simply called "Edgy" – and it certainly is! This necklace and earring set feature white channel set stones in a fun and funky triangle design.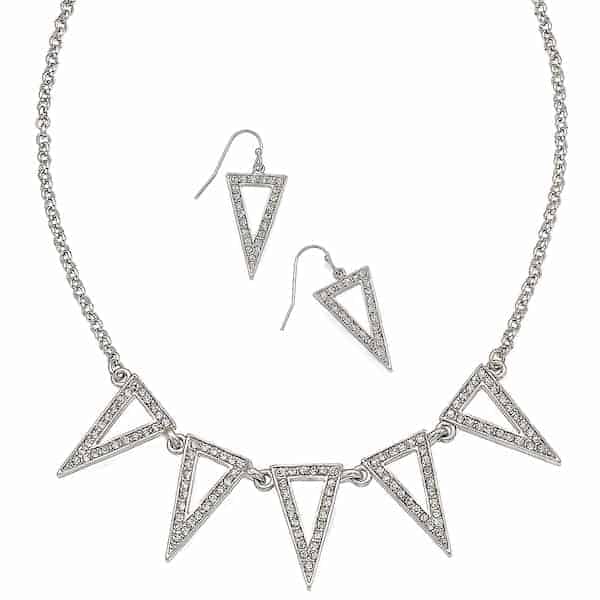 Every piece I own is just as sparkling today as the first day it arrived. The sparkle from Traci Lynn Fashion Jewelry is hard to beat!
Traci Lynn offers a full line of necklaces, earrings, bracelets, rings and even handbags and men's items now too! You can order online or host a party to earn free and discounted products for sharing these sparkling jewels with your friends.
If you want even more you can join Coretta's team and build a business while joining the mission to "Pass The MIC" and run your business your way!
Check out Coretta's website to learn all about how you can get involved with Traci Lynn Fashion Jewelry.