"Every product we personalize has a heartbeat; it represents a person!"  That is the thought behind every product sale from Initials, Inc, a leading direct sales company that offers FREE personalization on their gorgeous handbags, totes, scarves, and more. Through home parties, online sales, vendor events, fundraisers, and one-on-ones, Independent Initials Inc Creative Partners are changing their lives, one bag at a time.
The Initials Inc Creative Partner Business Opportunity is available with just a $99 start up kit. The Initials In Startup Kit includes all of the business supplies you need to start your business, fabric samples, font color samples. and a number of amazing products from the current catalog -One Trip Wonder, Hobo, Pillow Talk Pillow, Finishing Clutch, Pack it Pocket, YBL, Pop Art Pocket and Lunch Lady. If you join in November, you will also receive the gorgeous new Aqua Vest – that's a $48 value – FREE!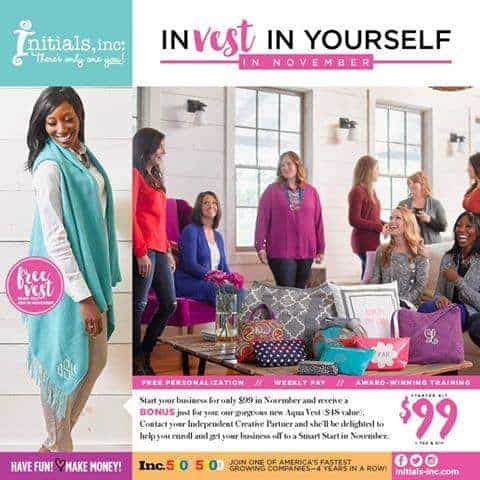 As an Initials Inc Creative Partner, there is no need to carry inventory, and you can run your business through many different income streams. With gorgeous products, a great Hostess Plan and a generous Compensation Plan, Initials, Inc is a trifecta of success in the direct sales industry. They even offer a Smart Start Program with additional training and incentives for the first 100 days of business.

Independent Creative Partner Laura Blackburn is one of those women changing their lives one bag at a time. What began as just a "reason to leave the house" is growing into what will be the family's retirement plan! How cool is that!?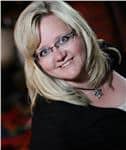 I started with Initials, Inc. to get out of the house. I have a son with multiple disabilities and that was my whole life. Through my business, I have found myself again. I have amazing friends who are like family all over the US that I would never have met without Initials, Inc. My why has now changed and I want to pay off debt and work on building up our retirement and with this company I know I can do it. I have been on a free trip of a lifetime to Cancun, earned many incentives and had some amazing paychecks. I have promoted to Creative Leader and hope to keep moving up the career path. 
Check out Laura's website to learn more about how you can get involved with Initials, Inc and be sure to also like her on Facebook.