What better way to shop for new clothes than in the comfort of someone's home surrounded by your closest friends? That is the thought behind our next company featured in the 2017 Christmas in July Gift Guide.
Ruby Ribbon knows that trying clothes on in the stores – with tiny dressing rooms and unflattering lighting – isn't much fun for anyone! Not to mention how crazy it can be finding clothes that fit – and flatter – with how crazy fashion sizings are these days.
Their debut line of Shapewear put Ruby Ribbon on the map, and their line has grown to literally be able to dress you from head to toe in clothes that are flattering and fashion forward for any body shape!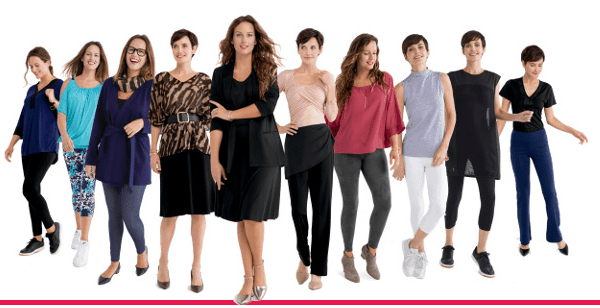 Independent Ruby Ribbon Consultant Theresa Mangieri sent in a pair of the Ruby Ribbon Denim Leggings for review in this year's gift guide.
These denim leggings are crazy soft with just enough stretch to make them wildly comfortable but still give some control.
And speaking of control – they feature the Ruby Ribbon Skinny Band™  technology which your smooths tummy comfortably.
I love that they also come up just high enough to avoid muffin top and are still fashionable to wear with a shorter shirt.
These leggings are great to be worn with flats, heels, or – my favorite – under your favorite pair of boots!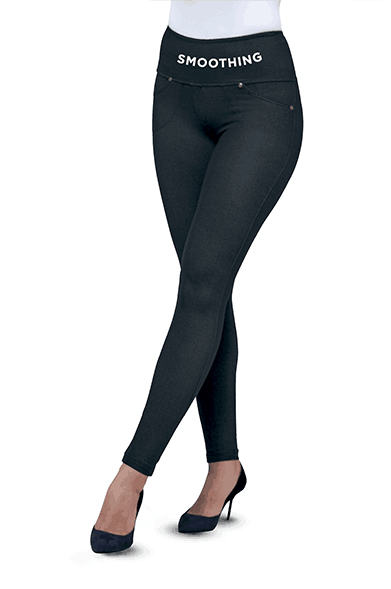 Ruby Ribbon offers the opportunity for women to come together to shop, try clothes on, and have their own little fashion show with no fuss and no pressure!
As a Ruby Ribbon Trunk Show Hostess, you can earn free and discounted products having a fun show introducing these great products to your friends.
If you want even more, consider joining Theresa's team and join in on this ground level opportunity to help women look and feel their absolute best!
Check out Theresa's website to learn more!