Direct Sales Company – bon COOK
Welcome to the Party Plan Divas Direct Sales Companies Directory Listing for bon COOK!
Presenting Shari Bell
In our directory we highlight incredible consultants from direct sales companies in Canada and the US. We invite you to get to know them, check out their sites and find the direct sales company that's just right for you.

bon COOK Consultant Name: Shari Bell
Company Website Link:  Click here to visit Shari's website
Phone Number toll-free: 503-939-0289
About bon COOK Consultant Shari Bell: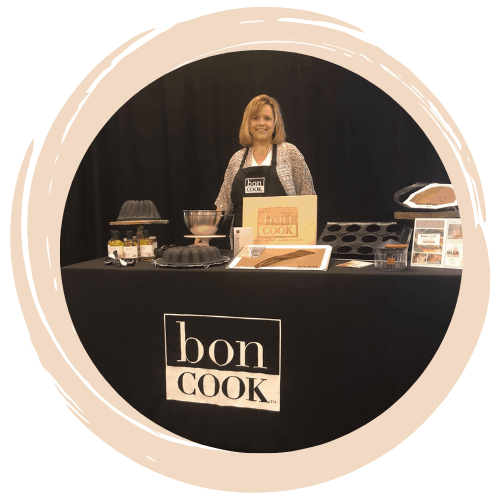 I was introduced to bon COOK by a friend and I immediately fell in love with the product and the company.
I decided to join bon COOK in 2018 when my youngest went off to college and I was looking for something that would be fun and rewarding to fill the void of being an empty nester.
My bon COOK business feels like I am having FUN instead of working and our CEO Cindy treats us like partners and not a number.
It's a wonderful community of beginning cooks to professional chefs and everyone in between! You will receive all the product, training, recipes, etc you need to hit the ground running! bon COOK is set up to do in-home cooking classes or classes done virtually.
My business is 95% virtual and it's fun because I meet people all over the US.
Maybe this is YOU OR SOMEONE you know that needs or wants the following;
~make a little extra income on their own time
~retired and needs something extra
~wants to build their kitchen with accessories for free
~wants be part of a fabulous team that is empowering
~wants to help others get 30 min meals on the table
~recognizes the value of cooking & eating at home
~wants something to call their own & be the BOSS whether it's full time, part time, side gig or an influencer
~easy cleanup in the kitchen
~wants to earn free trips


Social Media Links:
List of three of Shari's favorite bon COOK products:
Three of my favorite products;
1. Perforated Baking Sheet
2. bonMat
3. Trays & molds that go on the perforated baking sheet
Learn more about the business opportunity – click here.
Click here to go back to the Party Plan Divas Direct Sales Companies Directory