Huge List of Direct Sales Companies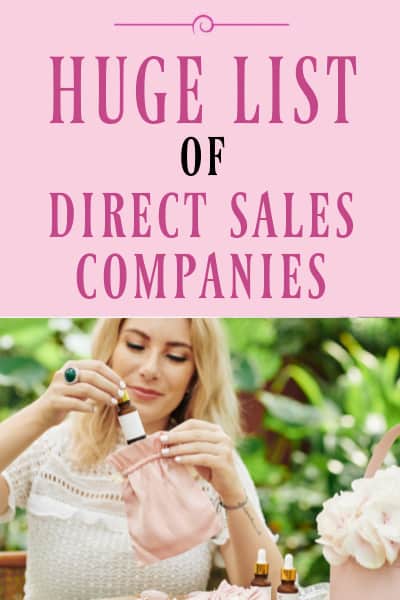 MLM.
Direct sales.
Network marketing.
Party Plan Companies.
You might already be considering going into mlm/direct sales/network marketing.
But where do you start?
It's not a good plan to pick the first one you see. Instead, find the one that will be the perfect fit for you.
What is the Best Direct Selling Company to Join?
When considering direct sales businesses it's important to do your research!
I firmly believe that anyone with a pulse can find a company that is right for them.
Direct Sales is simple about sharing products or services that you enjoy.
But how do you find new companies and the right opportunity for you? This is where our listing of companies comes in.
Direct Sales Companies 2021
What you might not be able to think of is a list of direct selling companies that offer the products and services that you enjoy. It's probably easy for you to think of some of the big direct sales businesses. Mary Kay. Avon. Tupperware.
They have been around for what seems like forever. Our parents, grandparents and sometimes great-grandparents used the products.
However, there are so many more opportunities out there, and I would hate for you to not learn about them. Your perfect opportunity by be hiding in that list of direct selling companies that you have never heard of.
This list is currently being updated for 2021. If you'd like to join the directory we also have an opportunity for you to do so…
Advertising in Our Directory:
So what I have done for you guys is done that first step for you. I have brainstormed and searched far and wide to be able to provide you with a master list of direct selling companies.
Now, I am only human, and the direct sales industry is constantly growing so my list of direct sales companies might (just might) be missing a few direct sales businesses that slipped under my radar. I'm working now to update this for a full list of active direct sales companies for 2021.
It is simply my goal to help each of you to get through this process as much as I am able.
Want to advertise your biz? List up to 3 direct sales companies, and get a bonus free Diva Success System Planner!
CLICK HERE for info
5th Avenue Collection Jewelry
A1 ISP
Accentz
Acceris
Achievers Unlimited
ACN
Act Energy
Acti Labs
aDOORable Baskets
Advantage Nutraceuticals
AdvoCare
Aerus
Affinity Just 2
Affinity Lifestyles
Agel
AIM Companies
Alison's Pantry
Alive Worldwide
All About You
All'asta
Aloette
Amazon Herb
Ambit Energy
AMC Culinary
American Biolabs
American Longevity
American Serenade
AmeriKare
Ameriplan
AmeriSciences
AmeriTalks
A Muse Studio
Amway
Angel Company
Annasa
Apple Blossom Naturals
April Nites
Apriori Beauty
Apothecary
Arabella Ave
Ardyss International
Arbonne
Ariix
Asantae
Ascend Technologies
Assured Nutrition
Athena's Home Novelties
At Home America
ATI
Ava Anderson Non Toxic
Avalar
Avalla
Avita
AVON – Tamika Mapp
AwarenessLife
Azante Jewelry
Azuli Skye
Balance Company
Banner Season
Bashful Bliss
Basic Reset
bath•ologie
Alicia Bridwell
Bazi
BeachBody
Beautycounter
BeCause Cosmetics
Bedroom Kandi – TAKEN (Listing coming soon)
beFragrant
Bellame
Bellahoot
Bellaroma
Bella Speranza
Berry Tree
BigPlanet
Bioceutica
Bionovix
Bio Performance
Bio Pro Technology
Bittersweet Candle Co
Black Box Cosmetics
Blendfresh
Bless it Be
Blessed Hope
BlueBella
Bobri
Body & Soul Elements
Body Alive International
Body Extreme
Body Shop at Home
Body Wise
Bomb Party – Consultant Patti Klassen
bon COOK – Consultant Shari Bell
Book Wise
Boresha International
Brain Garden
Burn Lounge
Buskins Leggings
Cafenopal
Candle Wealth International
Care Entree
Carico
CC Originals
Celadon Road
Celebrating Home
Changes International
Charity by Dawn Lilly
Charmed and Company Creations
Charmed Moments
Charms About Me
Jennifer Blackstone
Charmelle
Charmsations
Chalk Couture
Chalky & Company
Chef Selections
Chez Ami
chloe + isabel
Chrisco Canada
Close To My Heart
Coastal Vacations
Color by Amber
Color Me Beautiful
Color Street – Betty Corbett
Conklin
Cookie Lee Jewelry
Cosway
Country Gourmet Home
Country Hearts Gifts
Country Scents Candles
Country Suds
Crave Urban
Create-A-Book
Creative Memories
Creative Photo Concepts
Crossed by Gypsy Soule
Crunchi
Cutco Cutlery
CW Light
CyberWize
Daisy Blue Naturals
Damsel in Defense – Alana Klages
dMinerals
DeTech
DHS Club
Diamond Cash Club
Diamond Divas – Consultant Patti Klassen
Diana Snaps
Diplicious
Direct Matches
Discovery Toys
Diva Shop
Doncaster
Dot Dot Smile
dōTERRA!
DOVE Chocolate Discoveries
Do You Bake – Kathie Carr
Dream Impressions
Dream Life Vacation Club
Dreamtrips
Drink Life In
DSDomination
Dubli
DWG International
Dynamite Marketing
EcoGlo Minerals
EcoQuest
E. Excel
E-Verge
Emily's Secret Garden
Empower Net
Enchanted Potions
Endless Xpressions
eNewLife
Enhancing Lives at Home
Enliven International
Entrenet
Enzacta
Eondeck
Empower Network
EPICURE – Amy Stokes
EPX Body
Equity Now America
Escape International
Essante Organics
Esse
Essential Bodywear
eStar
Everyday Wealth
Everything Happy!
Evolution International
Excel
Exfuze
Extreme Health Formulas
EYI
Fantasy Inc
Farmasi – Sabrina Friel
Feed2Earn
Femme Defenses
FemOne
FFSI
FGXPRESS
Fibi & Clo
Fifth Avenue Collection
Finally International
Financial Destination
Financial Freedom Society
First Financial Security
First Fitness Nutrition
FitTeam Global
Flavourista
For Everybody
Forever Candles and Gifts
Forever Green
Forever Living Products
For Your Pleasure
For Tails Only
For Every Home & Style
ForMor
Fortune Hi Tech Marketing
Franceluxe
Free Card Matrix
Freedom Rocks
FreeLife
Frutaiga
Fruta Vida
Fuel Freedom International
Fullerbrush
Fun Stampers Journey
Fun Unlimited
Fun with Dips
Fushion Wraps
Gano Excel
Gardenuity
GBG
Gel Moment – Consultant Rebecca Lennox
Gemcap
Gemnora
Genesis Today
GNLD
Global Domains International
Global Health Trax
Global Longevity
Global Resorts Network
GlobalWon
GoDésana
Gold Canyon
Goldshield Elite
Going Platinum
Goji
Gourmet Coffee Club
Gourmet Cupboard
GoYin
Grace & Heart
Great Big Teas
Great Health Works
Greenwood Health Systems
GT Trends
Happy Gardner
HBNaturals – Suzy Wright
Healing America
Health and Beauty Naturals
Health-Mor
Health Through Nutrition
HealthVoyage
Healthy Coffee
Healthy Home Company
Healthy Pet Net
Hearts on Fire
Heart Warming Creations
Heavenly Goddess Spa
hempSMART
Henn
Herbalean
Herbalife
Heritage Health Product
Heritage Makers
Hilltop Coffee
Home & Garden Party
Home Interiors
Homeware Creations
Hoots Meow
Iaso Tea
ICR Services
I Remember When
IDLife
Ignite
Igonet
Ilivingapp
Immunotec
Impact America
In A Pikle
Infinity 2
Initals, Inc.
Initial Outfitters
Innerlight
Innovage
INSPIRANZA DESIGNS
Inspired Aroma
Instant Payday Network
Integris Corporation
Intimate Dreams Parties
Intimate Tickles
Intimo
Invisus Direct
IPowerBiz
iQkonnect
Isagenix
ISPVIP
It Works!
ITV Ventures
JAFRA Cosmetics Int'l
Jamie Oliver at Home
Java Momma
Javita Coffee Company
Jamberry Nails
Jbloom
Jeunesse
Jennifer Zacharias
Jewel Kade
Jewell
JewelScent
J Elizabeth Boutique
J. Hilburn Men's Clothier
JMOcean
Jordan Essentials
Jolica
Juice Plus
JuJuBelle
Jurak
Just Jewelry
Kalypso Twistz
Kaire
Kara Vita
Keeley Kendall
Keep Collective
Kelly's Kids
Keylime Canada
Kickin' N the Kitchen
Kitcheneez
Kleeneze
Kyäni
LaBella Baskets
Lady Emily
Lametco International
Latasia
Lattice & Ivy
L'BRI PURE n' NATURAL
L'dara International
Leaders Club
Legacy for Life
Legal Shield
Legging Girl
Lemongrass Spa
Wendy Breese
Le-Vel
Lexli
Lexxus International
Liberty Health Net
Life Force
LifeMist
Life's Abundance
Life Plus International
Lifetime Cookware
Life Vantage
Life Vita
Lightyear Alliance
Lilla Rose – Katheryn Rodriguez
Lilybean & Baxter
Limelight by Alcone
Limitless World Wide
Limu Company
Linen World
Lion Legacy
Liquidity International
Little Black Box
LiveSmart 360
Living Fresh Collection
Llynda More Boots
Lollipop Dreamz
Longaberger
Longevity Network
Locketique
Lovable Labels
LoveWinx
Lucky Girl Candles
LuLaRoe
LuLu Avenue
Luzier
Lyon Legacy
4Life
M2CGlobal
Macee Leigh
Magnabilities – TAKEN (listing coming soon)
Magnolia and Vine
Makeup Eraser
Malibu Naturals
Mannatech
Market America
Mary & Martha – Kerry Santucci – US Only
Mary Kay – Diane Swanberg
MaskCara
Mason Grove Farms
Matol
MaxGXL
Max International
Maxous
Maxxis 2000
MD Global
MeAesthetics
Melaleuca
Mentors in Motion
Meow N Ruff Ruff
Meredith Lilly
Me Soxy
Metrin
Mia Bath and Body
Mia Bella
Mi One Group
Mialisia Jewelry
Miche
Miessence
Mineralicious
Miracle Mail
Mixed Not Stirred
Mix Party
Modere
Monat
Monet Handbags
More of This a Little of That
Morinda
Motor Club of America
Moxie
Multi-Pure
MWR Life
Carlos Cardozo
My Bling Place
My Daily Choice
My LaLa Leggings
My Lil Diva
MyNetworkOne
My Power Mall
My Video Talk
National Motor Club
Natura International
Natural Health Trends
Naturally Kouxan
Naturscience
NatureRich
Nature's Inspiration
Nature's Pearl
Nature's Sunshine
Nature's Youth
Naughty Cocktail Parties
NEFX
NEORA
Neucopia
NeuroGenesis
Neways
New Vision
NewULife
Nexagen USA
NHT Global
Nikken
Noevir
Nom Nom Popcorn Company
Northern Clover
Northern Lights At Home
Norwex – Leslie Freeman
Amy Thurman
Noahs Ark Workshop
Nouveau
NuBotanic
Nucerity International
Nuchoice
NuMed
Nussentials
Nu Skin
Nutrafina
Nutronix
Nutrition For Life International
NuVante
NYR Organic
O'Chalky
Ocean Avenue
Odelizioso
Ohana USA
Omegatrend
Omnilife
Omnitrition
Once Upon A Family
One Earth
One Group
One Hope Wine – Tracy McDonald-Ashe
Ooh LA LA Parties
Orenda
Organo Gold Gourmet Coffee
Oriflame
Our Hearts Desire
Our Own Image
OXO Worldwide
Oxyfresh
Oxygen Labs
Paisley Peppercorn
Paparazzi Acessories
Pampered Chef – Mary J Blackburn
Pangea Organics
Paris a Vous
Park Lane Jewelry
Parlez Productions
Party Gals
PartyLite
Party Time Mixes
Patchwork and Preserves
Paycation
Penelope Ann
Peoplesway
Perfect Wealth Formula
Perfectly Posh
Peruian Delight
Pet Protector
Petra Fashions
Pharmagel Skin Care
Pharmanex
Photomax
PHP Club
Phuse Beauty
Pine Oak Farm
Pink Package
Pink Paddle
Pink Zebra – Betty Corbett
Nikki Robinson
Pink Papaya
Pinnacle Quest International
Piper Noble
Pixelgigs
Pleasing Treasures
PLEXUS Worldwide – Tasha Misner
Plunder Design
PM The Wellness Company
Pola
Pollywally Doodle
Poofy Organics
Svetlana and Slava Negremovsky
Pre-Paid Legal
Princess House
Pro Builder Plus
The Project Home
Procard International
Pro Image International
Projoba
PromaSystems
Promatrix Plus
Promonde Travel
ProShop @ Home
Pro Step
Pro Wealth Solutions
PRT Travel
Pure Romance
Carmen Oakley
Purely Gourmet
Purium Health Products
Qing Mei
Qivana
Quiet Places For You
Quixtar
Radiantly You
Rarity Nails
RA Securities LLC
RBC
Referralware
Regalware
ReishiGo
Reliv
Renaware
Rendi
Retire Quickly
Riiviva
Ritzalife
Rockwood Soy Co
Rodan+Fields
RSVP
Ruby Ribbon – TAKEN (Listing coming soon)
Rustic Shop
Saba
Sabika
Saladmaster
Sanctuary Girl
Amy Trojanski
Sarah Coventry
Sass N Frass
Scarlet Scarves
Scars & Stripes
Scent of Style
Scent-Sations, Inc
Scentsy – Staci Cavalcante
SCI
Scimedica
Sea Aloe
Seabiotics
Seaborne
Seacai
Seasilver USA
Seacret
Self Indulgence
Send Out Cards
SeneGence
Serendipity Styles
Serabela
Seriesse International
Setting Traditions
Shaklee
Shape Your Future
SheBella
Shure Pets
Signature HomeStyles
Silpada Designs
Silver Icing
Simplexity
Simply Aroma
Simply Charmed Gifts
Simply Fun
Simply Said Designs
SINFUL Pleasures
Sisel International
Six Figure Income
Skin by Nature
Skinveda
Slimbalm
Slumber Parties
Social Zing
Solavei
Sole Mates Sandals
South Hill Designs
Southern Living at Home
Soyl Scents
Sparckily Apparel
Spa Destinations
Spa Girl
Spa Sensations
Spirit Lockets
Sportron
SPX Nutrition
Stampin' Up!
Stanley Home Products
Starlight
Steeped Tea
Stella & Dot – Joyce Edgar
StemTech
Style Dots at Home – Marcia Harris
Style Life – Danielle Fraher
Stimulife
Studio 7 Fashion
Success University
Sunrider
Supralife
Suzanne
Sweet & Sassy
Sweet Minerals
Swiss Colony Occasions
Switch ISP
Symmetry Direct Health and Wellness
Synergy
Tahitian Noni
Take Shape for Life
Talk Fusion
Tara at Home
Tarrah
Tasteful Treasures
Taste Of Gourmet
Taste of Home Entertaining
Tastefully Simple
Marcie Samartino
TeaLife
Tealightful Treasures
Team Effort Network
Team National
Telecom Plus
The Cambridge Diet
The Cocoa Exchange
The Dream Team
The Happy Coffee Company
The Master's Miracle
The Right Solution
Think Goodness – Sabrina Friel
Tiber River Naturals
Tickle Your Fancy
Tidal Wave
Tidings Of Love
Tiensna
Top Line Creations
Tori Belle – Bernadette Canuela
Total Life Changes
Total Wellness International
Touchstone Crystal
Traci Lynn Fashion Jewelry
Trades of Hope
Traffic Oasis
Travel Reaction
Traveling Vineyard
Kiersten Ray-Kuhn
Traverus
Tre'vo
TruVision Health
Theorem
Thirty-One – Jamila Barhona
Thrive Life
Tristar Enterprises
TriVita
Tula Xii
Tupperware – TAKEN (Listing coming soon)
TuVous
TVIExpress
Two Sisters Gourmet
Ultimate Match
Uppercase Living
Usborne Books & More – Emily Milan
Unicity Internation, Inc.
United Herbal Sciences
Universa.
Urban Botanic
URI International
USANA
US Health Advisors
uVme
Valentus
Vantel Pearls
Vault Denim
Velata
Vemma
Vessel
ViBella Jewelry
Victory Nutrition International
Vidcommx
Vfinity
ViSalus
VISI Health & Wellness Products
Vision For Life
Vista Health Products
Vitacube
Vita Genesis
Vitalife 2000
Vitamark
Vitamin Power
Vitel
Viva Life Science
Vivi
VMDirect
Voyager Health Technologies
VWD
The Wagon Wheel Company
Wachters
Waiora
Wakaya Perfection
WakeUpNow
Warm Spirit
Warranty Rewards
Water Oz
Watkins Independant Consultant – Melody Thacker
Wealthenaire
Wealthening
West Bend Cookware
White Lily Candles
Wildflower Designs
Wildtree
Wildtree Herbs
Willing Beauty
Willow's Nest
Wine Shop at Home
Winnie and Kat
World Financial Group
World Leadership Group
World Ventures
Xango
Xelr8
Xocai
XO Lifestyle Worldwide
Xooma Worldwide
Xtreme Health Formulas
Xyngular
Yevo
Yoffi
Yoli Better Body Company
You Got Shoes
You Nailed It
Youngevity
Young Living
Younique
Yourself Expression
Your Travel Biz
Your Wellness Company
Youthflow
Zavita
Zendigo
Zenith 4 The Planet
Zibycom
Zija International
Zurvita
Zrii
Zyia
Please do due diligence before joining any business opportunity. Speak with distributors in the company, including those featured here, and Google the company to see both the pros and cons of the opportunity you are interested in. PartyPlanDivas.com does not endorse any of the companies listed above and is not responsible for your experience with any company. Like all things in life, your results will vary.