Direct Sales Company – Color Street
Direct Sales Companies Directory Listing for Color Street!
Presenting Betty Corbett
In our directory we highlight incredible consultants from direct sales companies. We invite you to get to know them, check out their sites and find the direct sales company that's just right for you.

Consultant Name: Betty Corbett
Company Website Link:  Click here to visit Betty's website
About Color Street Consultant Betty Corbett: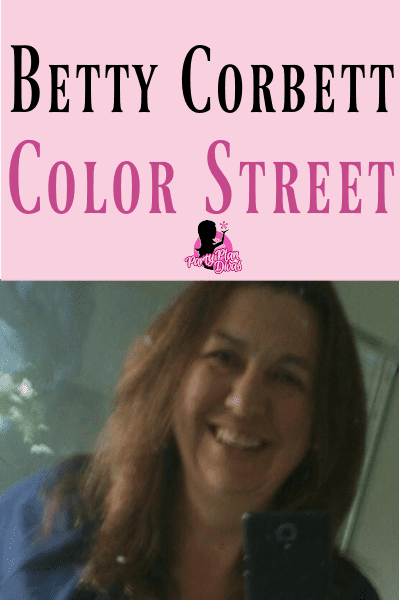 Hi Friends, my name is Betty and I am your ℂ𝕠𝕝𝕠𝕣 𝕊𝕥𝕣𝕖𝕖𝕥 𝕤𝕥𝕪𝕝𝕚𝕤𝕥!
The company is brand new to Canada as of Aug 2021.
I've always been a small town NB & Maine gal. Currently, in NB, I live with my spouse Mike & work part-time helping to care for my adult quadriplegic nephew and run a small business from my home.
Over the next few days, I want to introduce you to Color Street, a  real nail polish that's been dried down onto a strip for an easy, mess-free manicure with no dry time 
Super Easy
Affordable
Sustainable
Beautiful
Social Media Links:
Betty's Favorite Products:
Prism and Holiday sets
Learn More About Color Street Products, Parties & Business:
Click hear to learn more about buying products from, hosting a party for or joining the team at Color Street with Betty
Click here to go back to the Party Plan Divas Direct Sales Companies Directory