Direct Sales Company – HBNaturals
Welcome to the Party Plan Divas Direct Sales Companies Directory Listing for HBNaturals!
Presenting Suzy Wright
In our directory we highlight incredible consultants from direct sales companies. We invite you to get to know them, check out their sites and find the direct sales company that's just right for you.

Consultant Name: Suzy Wright
Company Website Link: Click here to visit Suzy's website

About HBNaturals Consultant Suzy Wright: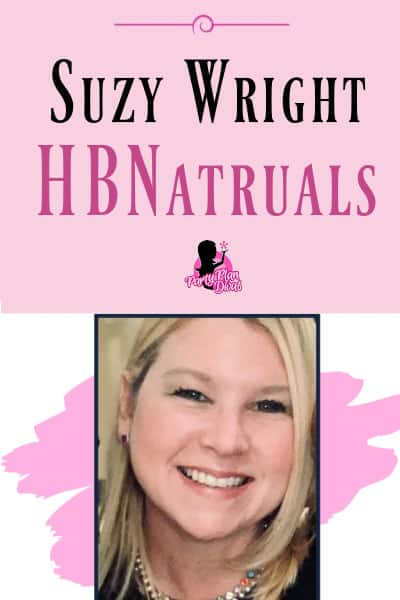 I was born and raised in the beautiful state of North Carolina. This is where my story begins. I went from playing in the salty water at the coast to exploring the majestic mountains off of the Blue Ridge Parkway.
As an adult, my path led me to meet my husband in college. We have created a beautiful life together with 2 children and currently 3 pets (2 cats and 1 dog).
My most ambitious goal is to create a loving and fun home for my family and pets.
I wish to raise children who understand the importance of a life well-lived. I want them to learn how to care for themselves, each other, and the world at large. That starts at home. That starts with me.
I want my precious pets to feel so much love. I have rescued many pets over the years and providing them with a loving home where they feel safe and secure is the best gift I could ever give.
Aside from managing a busy home with kids and pets, I spend my days working on my blog, writing, researching and playing tennis.
My hope is to work with you in offering resources to naturally strengthen and enhance your life and the lives of your families (including the pets). Go HERE to grab this gift to help you get started.It's FREE and I would love for you to have it…
Can't wait to meet you!
XOXO,
Suzy
Go HERE for my FREE gift to you – "Recipes from the Stillroom" Living the Aromatic Lifestyle
Can't wait to meet you!
XOXO,
Suzy
Social Media Links:
Suzy's Favorite Products:
Nova Smart Coffee
Calm for Pets
Sleep Magnesium Lotion
Click here to go back to the Party Plan Divas Direct Sales Companies Directory